2018 HR Daily First Half MLB Awards
Hard to believe, but the first half of the 2018 MLB season is officially in the books. Tuesday's All-Star Game in Washington was a wild and appropriate ending to a first half that has been full of surprises. As per tradition, HR Daily is here to give you our picks for the MLB Awards of the first half. Like we did last fall at season's end, we'll show you each member's pick and then proclaim the winner by majority. Let's start with the Senior Circuit:
National League:
Comeback Player of the Year:
Top Contenders: Matt Kemp- Dodgers, Jason Heyward- Cubs, Jon Lester- Cubs
Darkhorses: Starling Marte- Pirates, Lorenzo Cain- Brewers
Votes: Mike (@MikeAddvensky): Matt Kemp, Seth (@MrMac91): Jon Lester, Matt K (@MattKrysz): Starling Marte, Me (@Flat_Manigen74): Matt Kemp
Your winner, with two of four votes is Los Angeles' Matt Kemp.
It has been a remarkable bounce-back season for the 33-year-old Kemp. After spending the last four seasons journeying from San Diego and then Atlanta, Kemp returned to Dodger Stadium this year and instantly turned back into the player that finished as NL MVP runner up in 2011. Named an All-Star this year, for the first time since 2012, Kemp's efforts have almost single handedly kept the struggling Dodgers in contention in the NL West. He is batting .309 with 15 HR and 60 RBI.
Cy Young Award:
Top Contenders: Jacob deGrom- Mets, Max Scherzer- Nationals, Jon Lester- Cubs, Aaron Nola- Phillies
Darkhorses: Zack Greinke- Diamondbacks, Patrick Corbin- Diamondbacks, Mike Foltynewics- Braves
Votes: Mike: Jacob deGrom, Seth: Jacob deGrom, Matt K: Jacob deGrom, Me: Jacob deGrom
Your winner, unanimously, is New York's Jacob deGrom.
No surprise at all here. Despite the train wreck that the Mets have been, Jacob deGrom is having the year of his career, and doing it with very little run support, which is reflected in his 5-4 record. Don't be fooled by that at all, though, because The deGrominator boasts an MLB best 1.68 ERA, is tied second in strikeouts (149) and WHIP (.97) and is fourth in BAA (.202). The speculation of the Mets trading their golden goose has been rampant and the chances of deGrom calling someplace else home by season's end are quite high. A trade to the American League may ruin his Cy Young hopes, but deGrom is having the best season of any pitcher when you consider the circumstances.
Rookie of the Year:
Top Contenders: Juan Soto- Nationals, Brian Anderson- Marlins, Christian Villanueva- Padres
Darkhorse: Seranthony Dominguez- Phillies
Votes: Mike: Juan Soto, Seth: Brian Anderson, Matt K: Christian Villanueva, Me: Christian Villanueva
Your winner, with two of four votes, San Diego's Christian Villanueva.
Wow, do I feel bad for baseball fans in the 619. The San Diego Padres existence for the large part has been one of failure and mediocrity (with the obvious exceptions of Tony Gwynn, Trevor Hoffman and the 1998 season), and this season has been more of that. Not even the signing of superstar 1B Eric Hosmer has shaken the team's fortunes. That being said though, this Villanueva kid has been a major breath of fresh air for the beleaguered franchise. San Diego can't be an easy place for a first year player to break in, but Villanueva has hit a respectable 19 homers and driven in 43 with a .762 OPS. Like Aaron Judge last year, some may not consider the Mexican a true rookie due to his age (27), but he's a first year professional none the less and one of the NL's best right now.
Manager of the Year: 
Top Contenders: Brian Snitker- Braves, Craig Counsell- Brewers, Gabe Kapler- Phillies
Darkhorse: Torey LoVullo- Diamondbacks
Votes: Mike: Brian Snitker, Seth: Torey LoVullo, Matt K: Gabe Kapler, Me: Craig Counsell
WE HAVE A FOUR-WAY TIE! Not one of us voted for the same person, and we cannot accept this!
Just like last year when we had a tie for AL MVP between Aaron Judge and Jose Altuve, we will let you, our readers, have the final say here. Go to our Twitter (@HomeRunDaily) and cast your choice for one of these four! You have until 8:30 PM ET tomorrow!
National League MVP:
Top Candidates: Freddie Freeman- Braves, Nolan Arenado- Rockies, Javier Baez- Cubs
Darkhorses: Eugenio Suarez- Reds, Jesus Aguilar- Brewers, Paul Goldschmidt- Diamondbacks
Votes: Mike: Freddie Freeman, Seth: Nolan Arenado, Matt K: Freddie Freeman, Me: Freddie Freeman
Your winner, with three of four votes, Atlanta's Freddie Freeman.
Like deGrom, not much of a surprise here. Freeman was in the midst of an MVP campaign last year when he was hit on his left hand on May 17, the resulting fracture knocked him out until the Fourth of July. He still played very well after this, but the month and a half on the shelf ruined his MVP chances. It's going to take another big injury to prevent Freeman from taking that crown this year. The Braves first baseman has been on a different level this year and helped bring his previously dormant team back to life. The American-Canadian is batting .316 with 16 HR, 64 RBI and .939 OPS. There's no two ways around it, those are stupidly good numbers. The Braves may be destined for great things this season if they can recover from their recent slump, and Freeman will be leading that charge.
American League:
Comeback Player of the Year:
Top Contenders: Matt Duffy- Rays, Manny Machado- Orioles, Gerrit Cole- Astros
Darkhorse: Kyle Gibson- Twins
Votes: Mike: Matt Duffy, Seth: Matt Duffy, Matt K: Michael Brantley, Me: Gerrit Cole
Your winner, with two of four votes, Tampa Bay's Matt Duffy.
After finishing second to Kris Bryant in 2015 NL Rookie of the Year voting, it slowly started to seem as if Matt Duffy would join the group of players that peaked as rookies and then went on to mediocrity. A trade to Tampa Bay and a severe achilles tendon injury that caused him to miss all of 2017 did not help his cause. However, this year, the Duffman has returned with a vengeance, batting .317 with a .784 OPS. He was shockingly left off the American League's All-Star Game roster, but it takes nothing away from this guy's incredible perseverance.
Cy Young Award:
Top Contenders: Justin Verlander- Astros, Luis Severino- Yankees, Gerrit Cole- Astros, Chris Sale- Red Sox
Darkhorses: Blake Snell- Rays, Charlie Morton- Astros, Trevor Bauer- Indians
Votes: Mike: Luis Severino, Seth: Chris Sale, Matt K: Chris Sale, Me: Chris Sale
Your winner, with three of four votes, Boston's Chris Sale.
Sale has yet to disappoint since changing his Sox from white to red and continues to establish himself as Boston's ace and one of the AL's best. Don't get me wrong, I know that Sale was the front-runner for the award at the half, last season, but ran out of gas down the stretch, he wound up finishing second behind Corey Kluber. The Condor's performance in the first half of this season has been just as good however, and it also appears that the new Red Sox manager Alex Cora is taking more efforts to reduce his innings than John Farrell did last season. His first half line of 10-4, 2.23 ERA, 188 Ks, .90 WHIP and .184 BAA earned him a third consecutive All-Star Game start, something that hadn't happened for a pitcher since Hall of Famer Robin Roberts' trifecta from 1953 to 1955. If Sale can hold it together in the second half this time around, he will earn a well deserved first Cy Young Award after finishing in the top six for the past six seasons in a row.
Rookie of the Year:
Top Contenders: Gleyber Torres- Yankees, Shohei Ohtani- Angels
Votes: Mike: Gleyber Torres, Seth: Gleyber Torres, Matt K: Gleyber Torres, Me: Gleyber Torres
Your winner, unanimously, New York's Gleyber Torres.
2018 hasn't been that big a year for rookie action. After we were spoiled last season by Aaron Judge, Cody Bellinger, Andrew Benintendi and Trey Mancini, this season has been plain dull. Everyone in the world was intrigued to see what Shohei Ohtani was going to do, and while he's been good, he hasn't lived up to the hype (not his fault though, the hype was too big for anyone). The Yankees' Gleyber Torres emerged from underneath Ohtani's shadow and has been quite impressive, showing us just why fans in the Bronx have been so excited since he was acquired from the Cubs as part of the return for Aroldis Chapman. The future superstar is batting .294 with a .905 OPS, earning him an All-Star appearance. Not bad at all for a guy who turned the drinking age last December.
Manager of the Year:
Top Conteders: Bob Melvin- Athletics, Scott Servais- Mariners, Alex Cora- Red Sox
Darkhorse: , Kevin Cash- Rays, Mike Scioscia- Angels
Votes: Mike: Alex Cora, Seth: Scott Servais, Matt K: Scott Servais, Me: Scott Servais
Your winner, with three of four votes, Seattle's Scott Servais (try saying that three times fast).
There are many deserving candidates in the AL for this award, and like the NL, the voting for it at season's end is likely to be very tough for the BBWAA. Servais' Mariners have been one of the stories of the year in the American League and are fighting for contention in a very tight AL West, with the similar surprise of the Oakland Athletics also adding to the intrigue. Even with the Mariners losing their biggest piece, Robinson Cano, to a half-season PED suspension, they haven't missed a beat and are only five out of the division leading Astros, thanks to the continued consistency of Nelson Cruz and Jean Segura's breakout. Servais should be commended for holding his team together through the trials they've faced. Seattle inherited North American professional sports' longest playoff drought from the NFL's Buffalo Bills this past winter. Will they break it on their first attempt?
American League MVP:
Top Contenders: Mike Trout- Angels, Mookie Betts- Red Sox, Jose Ramirez- Indians, JD Martinez- Red Sox
Darkhorse: Jose Altuve- Astros
Votes: Mike: JD Martinez, Seth: Mookie Betts, Matt K: Jose Ramirez, Me: JD Martinez
Your winner, with two of four votes, Boston's JD Martinez.
Martinez has lived up to the hype in Boston, and then some. Signed as a counter move to the Yankees' acquisition of Giancarlo Stanton, Martinez' remarkable first half has ensured that the Red Sox haven't fallen behind their storied rivals. What makes Martinez so valuable to Boston is that he's done exactly what was expected of him. He's sparked the Red Sox offense and taken pressure off other key bats. The end result? Only the Sox being in first place in a season where nobody though they would. In fact, Boston has led the AL East for a majority of the year.  It more than likely won't happen, but the 30-year-old player currently has a shot at the Triple Crown with his .325 AVG (third), 29 HR (second) and 80 RBI (first). For those of you who believe primary designated hitters shouldn't win MVP, he's played left field a good number of games and his defense has been solid. Martinez' all-around production has helped propel the Red Sox past the powerhouse Yankees. He's been an MVP in every sense so far during his tenure in Beantown.
What are your choices? Be sure to let us know on Twitter!
Rangers' Part Ways with Pitching Coach Doug Brocail
The Texas Rangers have parted ways with pitching coach Doug Brocail as they continue to analyze their current staff during their transition to new manager Chris Woodward, according to MLB.com's TR Sullivan.
Brocail had been the team's pitching coach for the past three seasons after taking over for Mike Maddux following the 2015 season. Prior to taking the Rangers job, he worked in the Houston Astros organization as a pitching coach.
Red Sox Steven Wright Undergoes Knee Surgery
Boston Red Sox right hander Steven Wright has undergone surgery on his left knee, receiving an arthroscopy and debridement on the joint, according to an official team announcement on Tuesday.
Wright "will continue to rehab and prepare for a return to pitching in the 2019 season", and will address issues that Wright had reportedly long been dealing with.
Wright posted a  2.68 ERA with 42 strikeouts and 26 walks for Boston this season.
2018 Home Run Daily MLB Awards
Awards week 2018 in Major League Baseball will draw as much intrigue as any of its predecessors. A compelling race for Manager of the Year and the Cy Young Award have people's attention on the National League side and I'm sure that everyone is eager to see the outcome of the American League's Most Valuable Player vote as well.
With the week set to kick off tomorrow night with the Rookie of the Year honors, here are Home Run Daily's Award winners for the 2018 MLB season.
Comeback Player of the Year:
NL: Matt Kemp, OF- Dodgers
The 2018 Los Angeles Dodgers were nowhere near as impressive or dominant as their 2017 counterpart but still reached the World Series for the second straight year. The man largely responsible for that is Matt Kemp, for it seemed as if he was the only one on the team producing at many points. Driving in 85 runs on top of a .290 AVG and 21 HR, Kemp was named an All-Star for the first time since 2012 and proved that the Dodgers made the right choice in bringing him back. After bouncing around from San Diego and Atlanta before returning to LA last season, Kemp exorcised the demons of many frustrating seasons this year and proved that he is still a force to be reckoned with.
AL: Xander Bogaerts, SS- Red Sox
Bogaerts was hit on the right wrist by a pitch against Tampa Bay on July 6, 2017 and suffered a sprained joint. He elected to not be put on the disabled list, and the decision effectively torpedoed his season. The consistent offense Red Sox fans had become accustomed to seeing from him went MIA as he finished the year batting .273 with just 10 homers. Bogaerts himself admitted that playing with the injury was a mistake, but he atoned for it this year, bouncing back with one of the best years of his still young career. The Aruban batted .288 and posted career highs in both homers (23) and RBI (103). The MLB is currently loaded with eons of talented young shortstops: Francisco Lindor, Trevor Story, Carlos Correa and Ozzie Albies, just to name a few. Bogaerts showed any doubters this year that he still belongs in that conversation.
Rookie of the Year:
AL: Finalists- Gleyber Torres, 2B/SS- Yankees, Shohei Ohtani,  RHP/DH- Angels, Miguel Andujar, 3B- Yankees
Our pick: Miguel Andujar
In a season where all the hype for the New York Yankees was surrounding Giancarlo Stanton and fellow rookie Gleyber Torres, Miguel Andujar stole the spotlight. He was arguably the team's most consistent force throughout the season when considering that Stanton under-performed and Aaron Judge was lost for a lengthy stretch due to injury. For the season, Andujar batted .297 with 27 HR, 92 RBI and 47 doubles, the last of which broke the Yankees' rookie record held by the legendary Joe DiMaggio. That's pretty elite company to be in, especially as a 23-year-old. The Yankees will look to add a shortstop this offseason with Didi Gregorious losing 2019 to Tommy John surgery, but it's safe to say Andujar has the hot corner locked up.
NL: Finalists- Juan Soto- OF, Nationals, Walker Buehler, RHP- Dodgers, Ronald Acuna, OF- Braves
Our pick: Ronald Acuna
Entering 2018, the hype was there and then some for no. 2 overall prospect Ronald Acuna, and when he was called up on April 25, he delivered as expected. The 20-year-old Venezuelan wasted no time in showing why he's considered to be a future face of the game, wowing fans with his play on both sides of the ball and helping spark the upstart Braves to their first NL East title since 2013. Acuna batted .293 with 26 HR and 64 RBI in addition to 16 stolen bases.  He also made the highlight reel in playoffs with an impressive grand slam in Game 3 of the NLDS off fellow nominee Walker Buehler. Numbers like that from a kid not even old enough to drink in the United States tell you something: this guy is going to be a freak.
Manager of the Year
NL Finalists: Bud Black- Rockies, Brian Snitker- Braves, Craig Counsell- Brewers
Our pick: Brian Snitker
The Milwaukee Brewers have always been my NL team, and as such I want oh so badly to give this one to Counsell, who led the Brewers on an incredible run. However, the most truly deserving nominee is Atlanta's Brian Snitker. The Braves were considered to still be in the process of rebuilding entering the 2018 season and were not expected to be contenders. However, propelled by the efforts of Acuna, Albies, Freddie Freeman, Nick Markakis and Mike Foltynewicz, the Bravos turned nearly every head in baseball and won the NL East from rival and perennial winner Washington. Considering that he was thought of as just an interim piece when Atlanta promoted him from Triple-A following Fredi Gonzalez' 2016 firing, Snitker's success with the Braves is remarkable. Leading such a young and unproven team to a division championship is impressive for any manager. Thanks in part to Snitker's efforts, baseball is quickly returning to prominence in Georgia.
AL Finalists: Bob Melvin- Athletics, Alex Cora, Red Sox, Kevin Cash- Rays
Our pick: Bob Melvin
Under Melvin, the Athletics were one of the game's best teams from 2012 to 2014, but the team fell rapidly afterwards, so much so that it's a bit surprising he was never fired. However, the 2018 A's showed glimpses of the team of old and qualified for the playoffs for the first time since 2014. Despite what can be argued as a lack of talent on paper, Oakland was a revelation this season and finished second only to the defending World Champion Astros in the West. Matt Chapman, Khris Davis and Sean Manaea led the way on the field, but Melvin's savvy and intuitive leadership was the true reason behind Oakland's appearance in the Wild Card game. This would be Melvin's third Manager of the Year crown. Tampa Bay's Kevin Cash could be a major dark horse here, however, as he led the Rays to their first winning record in five years despite an egregious lack of talent and fan investment.
Cy Young Award
AL Finalists: Corey Kluber, RHP- Indians, Blake Snell, LHP- Rays, Justin Verlander, RHP- Astros
Our winner: Blake Snell
Before this season, fans and critics alike could tell that the ability was there for Rays LHP Blake Snell, he just needed fine-tuning. And a demotion to Triple-A proved to be just that. Since he returned to the majors in June of last season Snell has been one of the best pitchers in baseball, and 2018 served as his coming out party. An MLB best 21 wins and .178 BAA coupled with an AL best 1.89 ERA make the man known as Snellzilla the easy favorite for the award, even though he's matched up against bigger names in Kluber and Verlander. Despite missing the playoffs, the Rays were one of the surprises of the year in the American League and actually finished with less losses than AL Central winner Cleveland. Snell's breakout year led the way and gave the team enough confidence to trade former ace Chris Archer to Pittsburgh. If Tampa Bay continues to surge, it will be Snell at the helm.
NL Finalists: Jacob deGrom, RHP- Mets, Max Scherzer, RHP- Nationals, Aaron Nola, RHP- Phillies.
Our winner- Jacob deGrom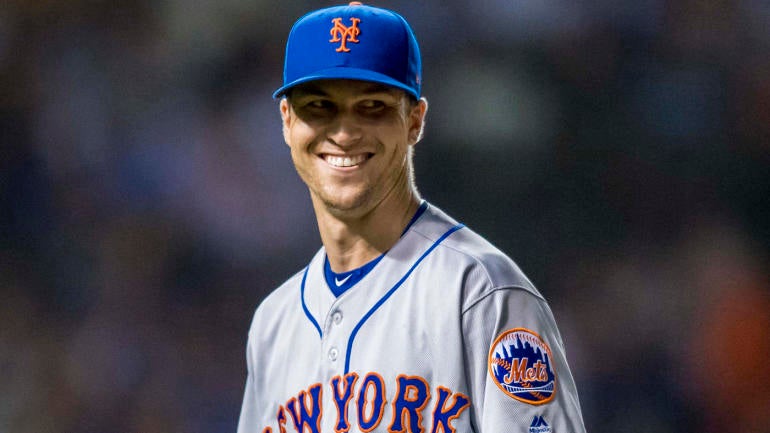 This is the most intriguing race of the year without question. Though Nola had a terrific season for Philly, the NL Cy Young is a two-horse race between Scherzer and deGrom. Scherzer by far has the all-around better line of stats, with an NL leading 300 Ks, 18 wins, .188 BAA and 220 IP. His division rival has him by the throat in one area, however, and it could be the difference maker. deGrom's ERA of 1.70 was the best in the MLB and the lowest a qualifying pitcher has finished with since Zack Greinke's 1.66 in 2015. That still wasn't his most impressive achievement this season, that honor goes to his streak of 25 consecutive starts allowing three runs or less that broke a 108-year-old MLB record. If that still doesn't convince you, remember that he would be 30-0 if the Mets had scored four runs in each of his starts. Scherzer's all-around line may be more impressive, but it is deGrom who is the most impressive finalist.
MVP:
NL Finalists: Christian Yelich, OF- Brewers, Nolan Arenado, 3B- Rockies, Javier Baez, 2B- Cubs
Our pick: Christian Yelich
The Miami Marlins unloaded their talented outfield in the winter of 2017, sending Giancarlo Stanton to the Yankees, Marcel Ozuna to the Cardinals and Christian Yelich to the Brewers. Milwaukee invested top prospect Lewis Brinson and many others in the Yelich trade, so it obviously had high hopes, but anyone see them paying off like this? Getting out of Miami turned out being the best thing that ever happened to Yelich, as a better supporting cast helped him finally unleash his potential. Leading the NL with a .326 batting average while finishing second in RBI with 111 and third in homers with 36, the 26-year-old also hit for the cycle twice in a three week span. He was awarded his first Silver Slugger and Hank Aaron Awards after the season, during which he was the centerpiece of Milwaukee's run to its first playoff and NLCS appearance in seven years. Baez and Arenado had reliably strong seasons, but Yelich is the runaway favorite here.
AL Finalists: Mike Trout, CF- Angels, Jose Ramirez, 3B- Indians, Mookie Betts, RF- Red Sox.
Our pick: Mookie Betts
Much like Yelich, Mookie Betts checked nearly every box in 2018 and continued to rival fellow nominee Trout for the title of the best in baseball. Betts led the MLB with a .346 AVG and .640 slugging % alongside 32 HR and 30 stolen bases, making him just the second Red Sox ever after Jacoby Ellsbury in 2011 to join the 30-30 Club. He also hit for the cycle and led the MLB in its favorite statistic with a 10.9 WAR, which alone is enough to win him MVP in today's game. Trout is a favorite every year and beat out Betts for MVP in 2016 in an underwhelming decision, but Betts has the advantage this time. On top of his formidable performance, he was also the most consistent offensive player in the game this year, more so even than teammate JD Martinez, who nearly won the Triple Crown. As the centerpiece of Boston's 2018 World Championship, Betts did pretty much everything a hitter can do this year and will more than likely take home his first career MVP on Thursday.
Agree/disagree? What are your selections?
As previously mentioned, Awards Week begins tomorrow with Rookie of the Year, then continues with Manager of the Year on Tuesday and Cy Young on Wednesday before concluding with MVP on Thursday. Be sure to tune into MLB network each night to see how the BBWAA votes!