MLB Great Roy Halladay Tragically Passes Away At Age 40
The baseball world was stunned and saddened today when it was confirmed that all-time great Roy Halladay was killed after his two-seat Icon A5 airplane crashed into the Gulf of Mexico near Holiday, Florida. He was 40.
"Doc" as he was affectionately nicknamed, was one of the greatest pitchers of his day. With a career spanning from 1999 to 2013 with the Toronto Blue Jays and Philadelphia Phillies, Halladay retired with a 203-105 record, 3.38 ERA and 2,117 Ks. He won two Cy Young Awards and is one of just six hurlers who won the honor in both leagues, winning in 2010 with the Phils seven years after his first with the Jays in 2003. His first Cy Young season was one of the most impressive in MLB history as he went 22-7 with a 3.25 ERA, 9 complete games and 266 innings pitched in 36 starts.
The eight time All-Star also threw two no-hitters in the same calendar year, firing a perfect game vs. Florida in May 2010 and just the second-ever playoff no-hitter against Cincinnati that October (which was also his first career postseason start). Halladay is an undoubted future Hall of Famer, it's just such a shame that his induction will now be posthumous. He will be eligible in 2019.
Outside the game, Halladay was very active in charity work, particularly foundations that aimed to help sick children. He was a family man to the very core and retired in-part so he could be more active with his wife and sons.
While there aren't many players in MLB history who were as good as Halladay, it would also be very difficult to find a player who was as well-liked. Doc was beloved by teammates and opponents alike for his dedication to the game and amicable personality. Numerous MLB stars, both past and present, have expressed their grief on social media. None may have been as heartbreaking as former teammate Chase Utley's post on Instagram.

The Blue Jays and Phillies also released statements mourning their fallen comrade.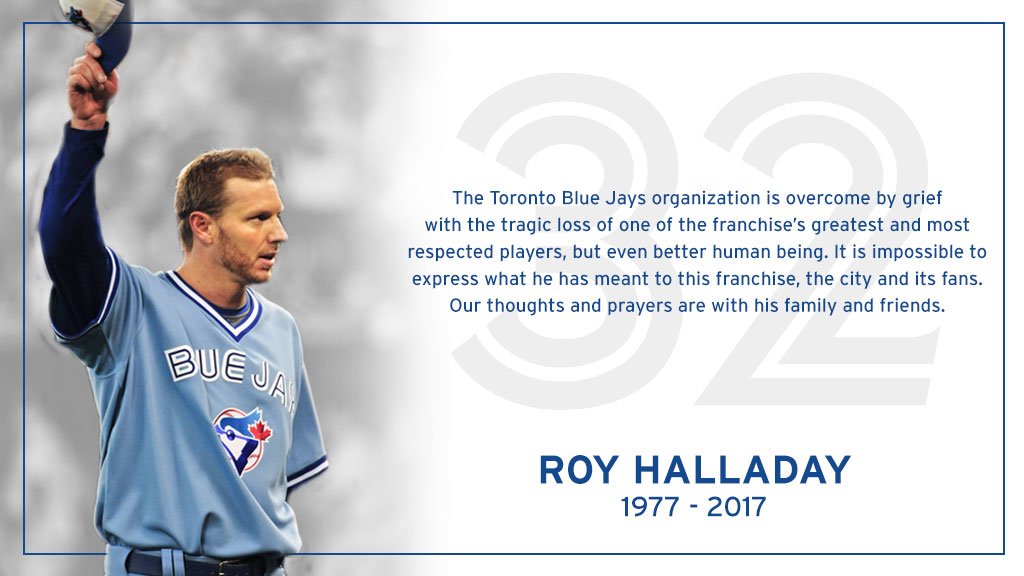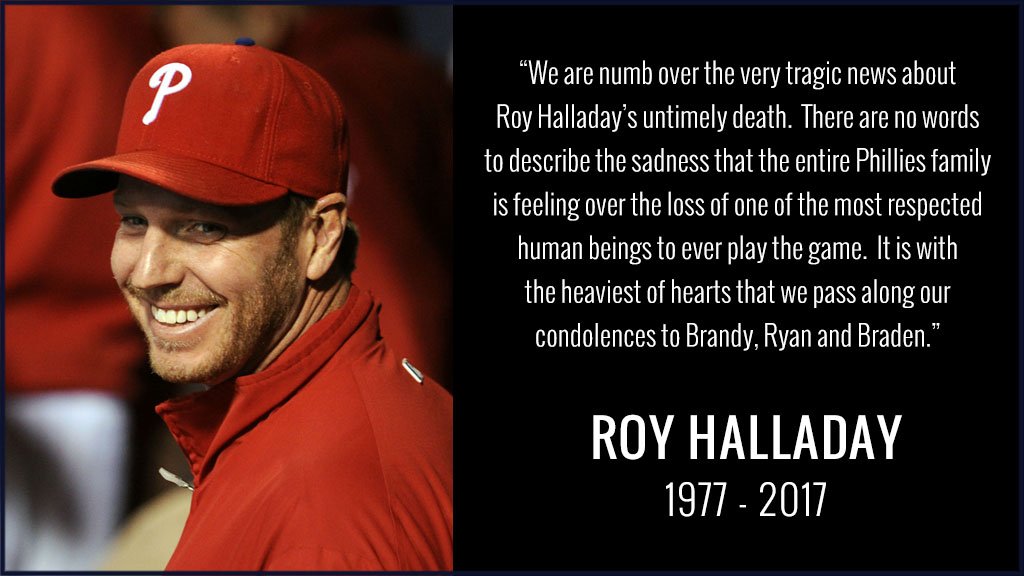 The loss of Halladay has been felt all over the sports community, with numerous teams and players outside of baseball expressing their love and respect.
The game of baseball lost a true legend today and a great, great man. Home Run Daily sends its deepest condolences to Halladay's wife Brandy, boys Ryan and Braden, and his family and friends.
RIP, Doc.
2019 Trade Deadline Highlights
This year's Trade Deadline in the MLB wasn't as boisterous as previous seasons and might rank as one of the less-exciting ones in history. There was still a good number of high-profile moves, however, and a few big names went on to new homes. Here's a look at the more notable acquisitions of July 31, 2019 and how they will impact the teams that got the big returns.
Blue Jays trade RHP Marcus Stroman to Mets in exchange for RHP Anthony Kay, RHP Simeon Woods-Richardson
The move that unofficially kicked off trading season was a bit of a head scratcher. It had long been rumored that Toronto was shopping ace Marcus Stroman, but the team he ended up with isn't exactly a contender. The Mets are currently four games under .500 and may not be vying for the postseason in 2019. The move is likely another part of the Mets rebuilding process, and since Noah Syndergaard stayed put, New York may have a formidable rotation next season.
Indians acquire LHP Scott Moss, OF Yasiel Puig from Reds and OF Franmil Reyes, LHP Logan Allen and IF Victor Nova from Padres, Padres acquire OF Taylor Trammell from Reds, Indians acquire Reds acquire RHP Trevor Bauer from Indians
The literal biggest trade of the day was a this three-team blockbuster. Trevor Bauer firing the ball over the center field wall on Sunday after he was pulled in the fifth inning ended up being the last pitch he threw in an Indians uniform. A day later the Tribe rid itself of his petulance and pulled off a massive trade with intrastate rival Cincinnati as well as San Diego that saw Bauer go to the Reds and Reds top prospect Taylor Tramell go to the Friars. Cleveland received a host of players from both teams, most namely Yasiel Puig, who is ironically also known as a prima donna.
Though Bauer is undeniably talented when he keeps his act together and bolsters the Reds attempts to trend upward, San Diego may have won the trade with Tramell, MLB's no. 30 overall prospect.
Rays acquire 1B Jesus Aguilar from Brewers in exchange for RHP Jacob Faria
Milwaukee was certainly brewing before the Deadline and made a commendable effort to improve its pitching. GM David Stearns' most notable move was a straight swap with the Rays that brought back righty Jacob Faria in exchange for power hitting 1B Jesus Aguilar. Aguilar is having a down year but has proven many times that he can be deadly. He gives the Rays the big bat they've been seeking in their hunt for a Wild Card berth.
It's a good move for both sides because it clears Milwaukee's infield logjam and gives the team another quality starter. Faria never quite broke out in Tampa Bay but a change of scenery always has potential to pay dividends. After having already gotten Jordan Lyles from Pittsburgh on Monday, the Brewers made another move and got Drew Pomeranz from San Fransisco later on Wednesday. Though none of the returns are big name guys, Milwaukee is serious about making another run after coming so close last year.
Cubs acquire OF Nicholas Castellanos from Tigers in exchange for RHP Alex Lange and RHP Paul Richan.
The Cubs made their chances of taking the NL Central back even better with this move. Nicholas Castellanos has been one of the MLB's more underrated players in recent years, largely because he was on the Tigers after the team's glory days of the early 2010s ended. Adding him to a lineup that already includes Kris Bryant, Willson Contreras and Javier Baez gives the Cubbies even more firepower, especially given Castellanos success vs. lefty pitchers. It's also a great move for him personally as he gets to join a contending team at last. The Cubs are vying to appear in the playoffs for a fifth consecutive season, and their chances look pretty good.
Astros acquire RHP Zack Greinke from Diamondbacks in exchange for RHP Corbin Martin, RHP JB Bukauskas, IF Josh Rojas and IF Seth Beer
If Houston was scary good before this trade, they're terrifyingly good now. The Astros just added Zack Greinke to a rotation that already includes Justin Verlander and Gerrit Cole in a last-minute deal that wasn't announced until after the deadline officially passed. Arizona received a package of four minor leaguers in return as the team is now officially in the rebuilding process.
Like Verlander, Greinke is in the second half of his thirties but has not declined at all and owned a 10-4 record with a 2.90 on a sub-par Diamondbacks team at the time of his departure. The six-time All-Star's presence gives Houston the best rotation in baseball by far and should get the knees of any upcoming opponent knocking. The MLB said it best on Instagram today, "Facing Houston? You have a problem."
Notable non-moves:
After being heavily rumored as top targets, Mets RHP Noah Syndergaard and Giants LHP Madison Bumgarner are still members of their longtime teams.
The Boston Red Sox, whose bullpen has blown 18 saves, made no moves to improve its relief core, to the amazement of the team's fanbase.
The New York Yankees were thought to be Syndergaard's top suitor, but the team did not acquire any starting pitching to aid Aaron Boone's struggling rotation.
What was the biggest move of the deadline this year? Be sure to let us know on Twitter @HomeRunDaily.
Braves Steal Keuchel From Yankees
Though it seemed almost a forgone conclusion that free agent LHP Dallas Keuchel would be joining the New York Yankees, a shocking twist that came from seemingly out of nowhere proved otherwise.
MLB.com's Mark Feinsand reported late Thursday night that the Atlanta Braves had signed the 2015 American League Cy Young winner to a one-year deal pending a physical. The Braves have yet to confirm this but Feinsand went on to report that Keuchel is slated to pitch for Triple-A Gwinnett on Saturday.
Rumors had been abundant all week that General Manager Brian Cashman and the Yankees were in deep on Keuchel and that his signing was only a matter of time. After all, it made perfect sense for New York to bring in the two-time All-Star to help fill the void left by Luis Severino's absence. Braves GM Alex Anthopolous had other ideas and snatched up Keuchel from his team's storied World Series rival. Keuchel's deal is reportedly for $13 million.
For Atlanta, the signing is a wise one. Keuchel's presence will take pressure off Mike Foltynewicz as he attempts to regain his 2018 form and will aid Julio Teheran, who has done a solid job carrying the weight of the rotation. The Braves have struggled at times throughout the season but have kept pace with National League East leading Philadelphia and are only two games back as of 6/6.
Can Atlanta's big acquisition help them regain ground on Bryce Harper and the Phillies, or is it being given too much credit? As always, let us know on Twitter at @HomeRunDaily.
Finally: Where Will Keuchel & Kimbrel Sign?
The 2019 MLB Draft will take place from tomorrow June 3 to Wednesday June 5. In addition to many teams drafting players that will go on to become superstars, it will be notable because the two most high-profile free agents from this past offseason may finally sign.
Former Cy Young award winner Dallas Keuchel and two-time Reliever of the Year Craig Kimbrel have been free agents since last season ended and are still without homes as the 2019 season gets closer and closer to the midway point. No team was willing to accept either man's asking price after both turned down $17.9 million qualifying offers from their former teams (Houston and Boston, respectively).
Tomorrow will be the turning point for both men. Starting on the first day of draft proceedings, the team that signs either of them will not have to forego a compensatory draft pick. And since many teams could use the services of either/or, there's no reason to believe both will not sign quickly.
Keuchel, 31, was the 2015 American League Cy Young Award winner with the Astros after leading the the league with 20 wins and a 1.02 WHIP and placing second with a 2.48 ERA. 2018 wasn't the best season of the lefty's career but still solid overall (12-11, 3.74 ERA). The team that could use him the most at this point is the New York Yankees.
Duking it out with the Tampa Bay Rays for first place in the AL East, the Yankees have gotten a monumental and unexpected pitching lift from the previously unknown Domingo German, who might just be the AL Cy Young winner if it was awarded today. However, Aaron Boone's rotation still lacks both depth and reliability with the absence of Luis Severino.
Keuchel could fill that void and then some. CBS Sports reports that the Bombers are in on Keuchel and that the two-time All-Star is willing to sign a one-year deal. Will Yankees General Manager Brian Cashman make the move and give his manager a big boost?
The Rays could too be a logical landing spot for Keuchel. Though far less talented on paper than Eastern rivals New York and Boston, Tampa Bay has been one of the best teams in baseball this year and are right in the thick of it with the Yankees. Adding Keuchel might make even more sense for Rays GM Erik Neander.
25-year-old Tyler Glasnow got off to a terrific start this season but was placed on the DL with a forearm strain on May 11 and isn't expected back until July. 35-year-old Charlie Morton has carried the slack admirably alongside ace Blake Snell, but they both would benefit from having their loads reduced. Keuchel's agent Scott Boras confirmed that his client has been throwing simulated games every fifth day, so it may not take him very long to get game ready.
As for Kimbrel, also 31, the team that he walked away from appears to be his most-likely destination. The Boston Red Sox' bullpen has been better than most people thought it would be this season, with journeyman Marcus Walden of all people being the biggest standout. However, it has still struggled, especially of late. Neither Ryan Brasier nor Matt Barnes have proven capable of truly shouldering the closer's role.
Though he was still a large piece of Boston's fourth World Championship since 2004, Kimbrel didn't look his best at times throughout 2018, which is likely why Boston didn't even consider the five-year deal he was asking for. The seven-time All-Star has reportedly acquiesced on that, however, and is now seeking three-years. Red Sox President Dave Dombrowski would be wise to accept this and bring his stud closer back. The Sox are 29-29 as of today and may struggle to keep pace with Tampa and New York if its relief core doesn't improve.
Another former home of Kimbrel's, Atlanta, has also been long rumored as a destination. The Braves were the surprise of the year in the MLB last season and earned Brian Snitker Manager of the Year honors, but the young team hasn't been able to keep pace with rival Philadelphia after the latter's offseason spending spree. If GM Alex Anthopolous were to bring the team's 2011 Rookie of the Year back, it would give fans an instantly recognizable face and shore up a bullpen that, like Boston, has been rocky. It looks as if Kimbrel may have a reunion with a former team either way, but where does he end up?
Think Keuchel and Kimbrel will end up some place different? Be sure to let us know on Twitter at @HomeRunDaily!