Ex-Baseball Prospect Danry Vasquez On Domestic Violence Incident: "I've Truly Changed"
On Tuesday evening, KRIS-TV released exclusive video footage of ex-baseball prospect Danry Vasquez physically striking his ex-girlfriend, Fabiana Perez, four times in a stairwell. By Wednesday, it made national headlines.
The incident occurred on August 2, 2016 at Whataburger Field when Vasquez was a member of the Corpus Christi Hooks, a minor league affilliate of the Houston Astros.
Vasquez, then 22, is seen entering a stairwell with Perez, then 20. He hits her twice before physically dragging her down the first set of stairs; the assault continues with two more strikes to the face.
Here's the graphic footage:
THIS IS HARD TO WATCH… Newly-released surveillance video shows former Houston Astros prospect Danry Vasquez striking his girlfriend three times. *WARNING – GRAPHIC VIDEO* https://t.co/nltXIEcUZk pic.twitter.com/uFgdp9piNN

— FOX 32 News (@fox32news) March 15, 2018
Following the video going public, Vasquez was released by the Lancaster Barnstormers of the Independent Atlantic League.
"There is no choice but to sever the relationship," said Barnstormers manager Ross Peeples. "Neither I, nor the Barnstormers organization as a whole, can condone or associate with that behavior."
Vasquez was blasted on Twitter by Astros ace Justin Verlander:
🖕🏻 you man. I hope the rest of your life without baseball is horrible. You deserve all that is coming your way! https://t.co/e8nJ8urUAJ

— Justin Verlander (@JustinVerlander) March 15, 2018
According to several reports, the charges against Vasquez were dismissed earlier this month after he completed required anger management courses.
Perez, now 21, reportedly regretted not pressing charges against Vasquez, now 24, who she ended the relationship with a few months after the incident.
"May God forgive him," said Perez. "He knows what he did. He wronged me, and at the time I forgave him, but if I had the knowledge I have now, I would have made a different decision."
Vasquez spoke with El Emergente, and stated that he is a changed man today.
"This incident happened almost two years ago," said Vasquez. "I've truly changed. I'm engaging in activities that have helped me change. I've matured as a person and I know what I did, or at least what was seen, which shouldn't be seen as an example or anything that can be amended.
"I also realize that scenes from this incident were powerful. As a public figure, I should be setting a better example. Today, I ask for forgiveness and want to show that this will not happen again. I understand there will be more backlash and I'm leaving everything in God's hands."
Following this incident, it's hard to picture Vasquez ever coming back to have a productive baseball career. Verlander said it best with his tweet, and teammate Lance McCullers Jr. said it best with this one:
The issue here is no one cared as much until a video was leaked & now everyone is outraged!? This is the reality of domestic violence. It's always brutal, always sickening. We must fight for the victims, video or not. He should be in jail. If you need help, find it. People care. https://t.co/1ZhHnJlX3o

— Lance McCullers Jr. (@LMcCullers43) March 15, 2018
What Vasquez did was definitely a jailable offense. Not once, not twice, but four times did he strike that woman- they weren't small strikes either. So McCullers is 100% right, the crime is worthy of time, and Vasquez should feel lucky he didn't have to go through any of that.
To wrap it up, hopefully this video sets a stricter precedent for punishment when it comes to brutal domestic violence incidents such as this one. This was a full-out assault and shouldn't be tolerated without stricter consequences. Anger management classes are nice, sure; but in a case like this, they don't do enough justice.
Braves Steal Keuchel From Yankees
Though it seemed almost a forgone conclusion that free agent LHP Dallas Keuchel would be joining the New York Yankees, a shocking twist that came from seemingly out of nowhere proved otherwise.
MLB.com's Mark Feinsand reported late Thursday night that the Atlanta Braves had signed the 2015 American League Cy Young winner to a one-year deal pending a physical. The Braves have yet to confirm this but Feinsand went on to report that Keuchel is slated to pitch for Triple-A Gwinnett on Saturday.
Rumors had been abundant all week that General Manager Brian Cashman and the Yankees were in deep on Keuchel and that his signing was only a matter of time. After all, it made perfect sense for New York to bring in the two-time All-Star to help fill the void left by Luis Severino's absence. Braves GM Alex Anthopolous had other ideas and snatched up Keuchel from his team's storied World Series rival. Keuchel's deal is reportedly for $13 million.
For Atlanta, the signing is a wise one. Keuchel's presence will take pressure off Mike Foltynewicz as he attempts to regain his 2018 form and will aid Julio Teheran, who has done a solid job carrying the weight of the rotation. The Braves have struggled at times throughout the season but have kept pace with National League East leading Philadelphia and are only two games back as of 6/6.
Can Atlanta's big acquisition help them regain ground on Bryce Harper and the Phillies, or is it being given too much credit? As always, let us know on Twitter at @HomeRunDaily.
Finally: Where Will Keuchel & Kimbrel Sign?
The 2019 MLB Draft will take place from tomorrow June 3 to Wednesday June 5. In addition to many teams drafting players that will go on to become superstars, it will be notable because the two most high-profile free agents from this past offseason may finally sign.
Former Cy Young award winner Dallas Keuchel and two-time Reliever of the Year Craig Kimbrel have been free agents since last season ended and are still without homes as the 2019 season gets closer and closer to the midway point. No team was willing to accept either man's asking price after both turned down $17.9 million qualifying offers from their former teams (Houston and Boston, respectively).
Tomorrow will be the turning point for both men. Starting on the first day of draft proceedings, the team that signs either of them will not have to forego a compensatory draft pick. And since many teams could use the services of either/or, there's no reason to believe both will not sign quickly.
Keuchel, 31, was the 2015 American League Cy Young Award winner with the Astros after leading the the league with 20 wins and a 1.02 WHIP and placing second with a 2.48 ERA. 2018 wasn't the best season of the lefty's career but still solid overall (12-11, 3.74 ERA). The team that could use him the most at this point is the New York Yankees.
Duking it out with the Tampa Bay Rays for first place in the AL East, the Yankees have gotten a monumental and unexpected pitching lift from the previously unknown Domingo German, who might just be the AL Cy Young winner if it was awarded today. However, Aaron Boone's rotation still lacks both depth and reliability with the absence of Luis Severino.
Keuchel could fill that void and then some. CBS Sports reports that the Bombers are in on Keuchel and that the two-time All-Star is willing to sign a one-year deal. Will Yankees General Manager Brian Cashman make the move and give his manager a big boost?
The Rays could too be a logical landing spot for Keuchel. Though far less talented on paper than Eastern rivals New York and Boston, Tampa Bay has been one of the best teams in baseball this year and are right in the thick of it with the Yankees. Adding Keuchel might make even more sense for Rays GM Erik Neander.
25-year-old Tyler Glasnow got off to a terrific start this season but was placed on the DL with a forearm strain on May 11 and isn't expected back until July. 35-year-old Charlie Morton has carried the slack admirably alongside ace Blake Snell, but they both would benefit from having their loads reduced. Keuchel's agent Scott Boras confirmed that his client has been throwing simulated games every fifth day, so it may not take him very long to get game ready.
As for Kimbrel, also 31, the team that he walked away from appears to be his most-likely destination. The Boston Red Sox' bullpen has been better than most people thought it would be this season, with journeyman Marcus Walden of all people being the biggest standout. However, it has still struggled, especially of late. Neither Ryan Brasier nor Matt Barnes have proven capable of truly shouldering the closer's role.
Though he was still a large piece of Boston's fourth World Championship since 2004, Kimbrel didn't look his best at times throughout 2018, which is likely why Boston didn't even consider the five-year deal he was asking for. The seven-time All-Star has reportedly acquiesced on that, however, and is now seeking three-years. Red Sox President Dave Dombrowski would be wise to accept this and bring his stud closer back. The Sox are 29-29 as of today and may struggle to keep pace with Tampa and New York if its relief core doesn't improve.
Another former home of Kimbrel's, Atlanta, has also been long rumored as a destination. The Braves were the surprise of the year in the MLB last season and earned Brian Snitker Manager of the Year honors, but the young team hasn't been able to keep pace with rival Philadelphia after the latter's offseason spending spree. If GM Alex Anthopolous were to bring the team's 2011 Rookie of the Year back, it would give fans an instantly recognizable face and shore up a bullpen that, like Boston, has been rocky. It looks as if Kimbrel may have a reunion with a former team either way, but where does he end up?
Think Keuchel and Kimbrel will end up some place different? Be sure to let us know on Twitter at @HomeRunDaily!
April 2019's Biggest MLB Stories
Holy smokes, the first season of the 2019 MLB season is already in the books, and stories were abundant in this one. From certain players tearing it up and others struggling to records being broken, April 2019 was certainly eventful in the baseball world. Here are the biggest stories, happenings and surprises from the first month of the 2019 campaign.

Albert the Great
At 39, Albert Pujols might not be the revered slugger that he was in his prime, but the Anaheim Angel is still getting it done and joined elite company in April. His two-run double off of Kansas City's Homer Bailey on April 28 gave him career RBIs no. 1,996 and 1,997, putting him ahead of Barry Bonds and in sole possession of no. 3 on the all-time list. Only Alex Rodriguez (2,086) and Hank Aaron (2,297) remain ahead of him. Though it's unlikely that he'll ever catch the latter, Pujols could pass A-Rod with a healthy and productive 2019 and 2020.
C&C on a tear
Outfielders Cody Bellinger of the Los Angeles Dodgers and Christian Yelich of the Milwaukee Brewers spent April wreaking havoc on National League pitching. Bellinger appears to have regained his form after a sophomore slump in 2018 and was the first month's best hitter. The 23-year-old currently has the NL Triple Crown with a .431 AVG, 14 HR and 37 RBI. Reigning MVP Yelich is picking up where he left off last year, and owns a share of the homer lead in addition to a .353 AVG and 34 RBI. It's obviously still early and both of these guys will cool off at some point, but they are as good as it gets in the Senior Circuit right now.
K&K still on the sidelines
Two of this past winter's most high-profile free agents still remain unsigned as the calendar turns to May. 2015 American League Cy Young winner Dallas Keuchel and 2x Reliever of the Year Craig Kimbrel are still without homes and MLB.com Insider Ken Rosenthal reports that it may be as long as June before either star signs. Both men have different contract desires, as Rosenthal reports that Kimbrel does not want a one-year deal whilst Keuchel is aiming for the short-term. There are plenty of teams that would love the services of either, but it looks as if a signing won't occur any time soon.
Medical costs soaring in the Bronx
The New York Yankees had enough injuries in the first month of the season to fill an entire hospital ward. Sophomore manager Aaron Boone has had the difficult task of holding his team together with more than half his starting lineup on the disabled list. Miguel Andujar, Dellin Betances, Greg Bird, Clint Frazier, Aaron Hicks, Aaron Judge, Luis Severino and Giancarlo Stanton are all currently laid up. Considering half of the team's minor league system has seemingly played in the past month, New York has done pretty well and Boone should be commended for his work. But fans in the Bronx will feel much better when all their superstars return.
Transaction declined?
Boston Red Sox ace Chris Sale is one of the MLB's most dominant lefties and has been since he became a starter in 2012, but he's been MIA for the first month of this year. Fans accustomed to the 7x All-Star dazzling batters with his slider would be shocked to see that he's currently 0-5 with a 6.30 ERA. There's still every chance that he can turn it around, but the Red Sox and their Nation have not enjoyed their ace struggling so mightily. Sale has taken full responsibility for his failures, but if his team wants to repeat as World Series champions, they'll need him to regain his form.
Slow start for Harper in Philly
The most high-profile free agent acquisition in recent MLB history hasn't gotten off to the start that his new team was expecting. 26-year-old Bryce Harper is having a rougher time acclimating to the Philadelphia Phillies than anyone would have thought. Through the first month of what is to be a very long tenure in the City of Brotherly Love, Harper is batting .231 with 6 HR and 20 RBI. He's far too talented to struggle like this long-term, but considering what the Phillies are paying him, they can't be too happy.
Vlad Jr. makes long awaited debut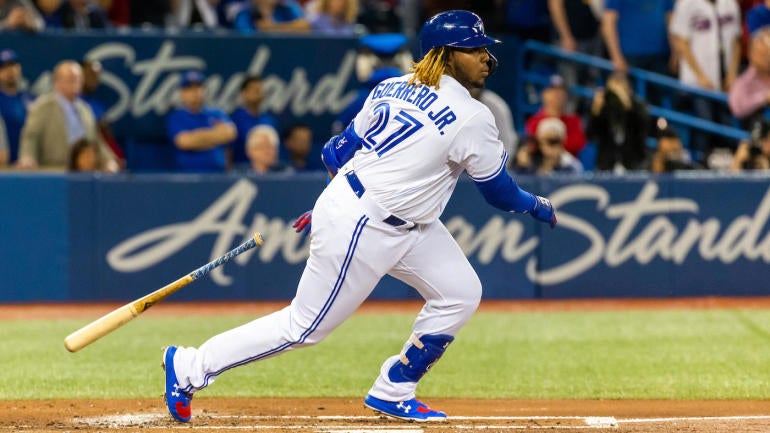 The baseball world had been chomping at the bit for some time to see no.1 prospect Vladimir Guerrero Jr. at the big league level. However, the Toronto Blue Jays waited patiently with the young phenom and allowed him to spend the end of 2018 and the beginning of this season with Triple-A Buffalo. Fans finally got their wish when the Jays made the call last week and brought Guerrero up for his MLB debut on April 26 vs. Oakland. A proud Vlad Sr. looked on as his son ripped a double in the bottom of the ninth for his first career knock. There will surely be many more to come.
Mets endure deGrom TJ scare
Jacob deGrom is currently the best pitcher baseball has to offer and he hasn't slowed on the heels of his masterful 2018 campaign. However, the Mets and their fans had to endure a brief panic when it looked as if the superstar righty had been claimed by the curse of Tommy John. It turned out to be nothing more than a scare and deGrom only missed one start, but baseball fans in Queens surely thought the sky was falling at the time.
Ichiro retires in grand fashion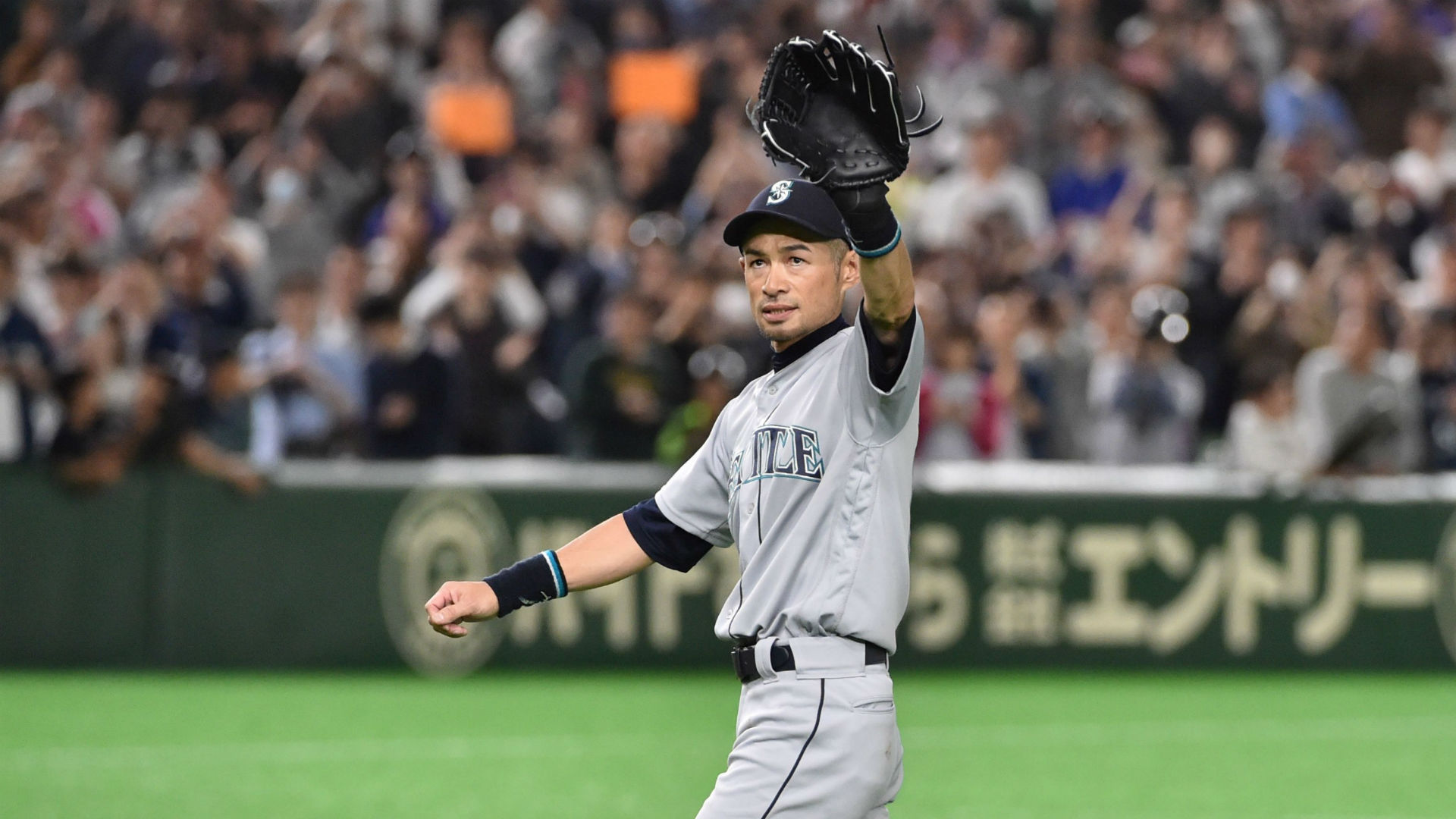 Though it happened in March actually and most fans may have forgotten about it by now, it's still one of best stories to come from baseball in some time. The Seattle Mariners opened the 2019 season vs. the Athletics at Tokyo Dome in Japan's capital. It was undoubtedly an amazing experience for all players involved, but it stood out for one player especially. 45-year-old Ichiro Suzuki played the series with the Mariners and called it a career after the second game. Not many foreign players in Major League Baseball can say that they played their last game in front of their native country and it's an honor Ichiro more than earned throughout his 28-year professional career in Japan and North America. An undoubted future Hall of Famer and one of the best hitters of all time, Ichiro walked off an MLB field for the last time to a thunderous ovation from his countrymen. Thanks for the memories, no.51.