2018 Season Preview: NL Central
Very similar to its counterpart in the American League, the National League Central Division's outlook for 2018 figures to be pretty similar to last season. There was a fair amount of offseason activity in the Central, but not much figures to change. Here's what we expect from the NL's mideast in 2018.
There's no reason to believe the Cubs aren't poised for a third straight NL Central Championship. Almost all of their big guns return and Joe Maddon once again has a super talented roster to work with. Making matters even better is that the Theo Epstein filled his biggest hole over the winter with an equally good candidate.
Biggest asset: Talent, talent everywhere
It's very tough to deny that the Chicago Cubs have one of the best-built lineups in baseball. Anchored by franchise cornerstone Anthony Rizzo and MVP Kris Bryant, the Cubs also boast Addison Russell, Ben Zobrist, Javier Baez, Kyle Schwarber and Jason Heyward.
On the pitching side, the Cubbies are also stacked. The aforementioned Epstein replaced departing ace Jake Arrieta with Yu Darvish, who could easily fill the role. Fellow veteran Jon Lester continues to be solid even with his advancing age. Jose Quintana and Kyle Hendricks round out what is undoubtedly one of the NL's best rotations. However, one departure that the team didn't address could be a problem.
Biggest weakness: Lack of a true stopper
The Lovable Losers' bullpen suffered two big blows this offseason when closer Wade Davis and setup man Hector Rondon both walked away in free agency.  According to The Chicago Tribune, 33-year-old Brandon Morrow is slated to be the team's new stopper. Morrow spent time with the Dodgers last season as well as their Triple-A affiliate Oklahoma City. He became only the second pitcher to appear in all seven games of a World Series last October but could not help Los Angeles overcome Houston.
Lack of a true closer could hurt a team that won the World Series two years ago thanks in large part to its bullpen. If the enigmatic Morrow struggles in the ninth, Carl Edwards Jr. could be pushed to the role, but that would create another hole in itself.  Despite all this, the 2018 Cubs should still rule in the Central.
2018 prediction: NL Central champs.
Milwaukee came so close to making the playoffs last season for the first time since 2011. Despite a lack of consistent pitching, Craig Counsell's squad missed out on the second NL Wild Card spot by just a game. Some marquee offseason acquisitions bolster the club's chances in 2018, however.
Biggest asset: Upgraded offense
Low key, the Brewers had one of the better winters in MLB this offseason. They made a big sacrifice in trading away top prospect Lewis Brinson to Miami along with others, but it brought back still-nascent superstar Christian Yelich in return. The 26-year-old has shown flashes of brilliance so far in his career but has never been able to quite sustain it. A far better opportunity to win in Milwaukee could help change that. The Brew Crew also made a big splash in signing familiar face Lorenzo Cain to a multi-year deal. Cain was drafted by the Brewers and played with them in 2010 before being traded to the Royals for Zack Greinke. Now a proven talent, Cain has the tools to bolster his old team even more.
The acquisitions of Yelich and Cain figure to pay big dividends at Miller Park. The bats of the two should take pressure off 2017 Breakout Player of the Year Travis Shaw and allow him to continue to cement himself as the team's MVP. Cornerstone Ryan Braun will also benefit from the upgrades as he transitions back to first base for the first time since his rookie year.
Biggest weakness: Still no true pitching
Though Brewers GM David Stearns did a terrific job with Cain and Yelich, he could have made more of an effort to purse a pitching upgrade.  It is unknown how much the team attempted to court top free agent hurlers Arrieta and Darvish, but entering 2018 Milwaukee has the same B- pitching staff that it had in 2017.
Don't get me wrong, the team didn't pretty well with that staff last year all things considered, but they could have possibly slipped into the playoffs had they gotten more wins and less runs-against. Chase Anderson receives the honor of starting Opening Day, displaying the hopes Counsell and co. have for him. This team needs an ace.
Despite this, the Brewers could very well return to October for the first time in seven years.
2018 predicition: second in NL Central- Wild Card winner.
St.Louis Cardinals
The Cardinals also made a big upgrade by way of a refugee from Miami. Like Milwaukee, St. Louis invested quite a bit in the move, trading away numerous high-end prospects to acquire Marcell Ozuna. It's a good move for a team that was competitive in 2017 but fell off at the end of the season and missed the playoffs for the second straight year after five straight appearances. Which is why-
Biggest asset: Marcel Ozuna
No coincidence. Like Yelich, Ozuna was a standout with Miami despite all the issues that team had during his time and will have no problem shining even brighter on a far better team. The 27-year-old's presence redefines Busch Stadium's outfield after Jeremy Hazelbaker and Randal Grichuk were waived and traded respectively. Though this is his first season with them, Ozuna may already be the new face of the Red Birds.
Biggest weakness: Fading promise
Though Ozuna's arrival is big for St. Louis and could reinvigorate Mike Matheny's team, St. Louis still has a big problem with once-promising stars starting to fade. You can't consider Adam Wainwright an example because, like Molina, he's just getting old. This can be said for Michael Wacha, however.  Though 2017 wasn't an awful season for him, the kid who came out of nowhere in 2013 and almost single-handedly carried St. Louis to a World Series title has been MIA the last two years. Kolten Wong also had a decent 2017 but is capable of far more. The Cards have consistently been one of the NL's top teams in recent years but need big performances from multiple players to avoid falling back into irrelevancy.
2018 prediction: Third in NL Central.
The Reds and their fans continue to be let down by their executives. Cincinnati once again made no big efforts this offseason to upgrade in any way, and as result 2018 figures to be another bleak season in Southern Ohio.
Biggest asset: Joey Votto
His age continues to grow but Joey Votto has shown no signs of slowing down. In fact, his age 33 2017 season may have been even better than his age 26 2010 NL MVP season. Votto put up the best all-around final line in the MLB last year and (in my opinion at least) deserved MVP more than Giancarlo Stanton. Unfortunately for him, the Reds have proven that one man can't do it alone and the Canadian superstar's herculean efforts have gone all for naught.
Biggest weakness: Uncommitted front office
As I already said, Cincy's biggest issue is that the team's ownership and front office have not done any ostensible work at making the once-dominant team any better. They've made no efforts to build around stars Votto and Adam Duvall and lack depth in a big way. Whether you see it as ignoring the call for a rebuild or simply not wanting to spend at all, the Reds won't improve until some kind of investment is put in this team. But, its leadership has shown that this is unlikely.
2018 prediction: fourth in the NL Central.
The winds of change have officially blown through the Steel City, at least as far as baseball is concerned. Pittsburgh traded away ace Gerrit Cole and franchise icon Andrew McCutchen this winter to officially kick off their rebuild. The Pirates' thoughts are now set on making the team great again (Trump pun in no way intended).
Biggest asset: Josh Harrison
Harrison has proven himself by now to be the Brock Holt of the National League. You can put this guy literally anywhere on the field and he will excel. With Cole and McCutchen gone and Starling Marte not yet recovered from his steroid bust, Harrison is easily his team's best player and could see himself traded at some point as well. It doesn't matter where on the field he goes, this guy will give you 100%. That's why he's so valuable.
Biggest weakness: Everything else about this team
I don't mean to rag on the Bucs but they've fallen almost as quickly as they rose in the early 2010s. This team used to be so magical and so fun to watch, where did it go? Your guess is as good as anybody's. Pittsburgh is definitely over the hill in that it realized it was time to reset. You have to laud the team's commitment to it too because we all know how mutual the love was between the Pirates and McCutchen (if you don't, watch his E60). This team is headed back in the right direction, but the road ahead is quite the lengthy one.
2018 prediction: last in the NL Central.
Let us know what you think and, more importantly, don't miss any Opening Day action. BASEBALL IS BACK!
2018 Home Run Daily MLB Awards
Awards week 2018 in Major League Baseball will draw as much intrigue as any of its predecessors. A compelling race for Manager of the Year and the Cy Young Award have people's attention on the National League side and I'm sure that everyone is eager to see the outcome of the American League's Most Valuable Player vote as well.
With the week set to kick off tomorrow night with the Rookie of the Year honors, here are Home Run Daily's Award winners for the 2018 MLB season.
Comeback Player of the Year:
NL: Matt Kemp, OF- Dodgers
The 2018 Los Angeles Dodgers were nowhere near as impressive or dominant as their 2017 counterpart but still reached the World Series for the second straight year. The man largely responsible for that is Matt Kemp, for it seemed as if he was the only one on the team producing at many points. Driving in 85 runs on top of a .290 AVG and 21 HR, Kemp was named an All-Star for the first time since 2012 and proved that the Dodgers made the right choice in bringing him back. After bouncing around from San Diego and Atlanta before returning to LA last season, Kemp exorcised the demons of many frustrating seasons this year and proved that he is still a force to be reckoned with.
AL: Xander Bogaerts, SS- Red Sox
Bogaerts was hit on the right wrist by a pitch against Tampa Bay on July 6, 2017 and suffered a sprained joint. He elected to not be put on the disabled list, and the decision effectively torpedoed his season. The consistent offense Red Sox fans had become accustomed to seeing from him went MIA as he finished the year batting .273 with just 10 homers. Bogaerts himself admitted that playing with the injury was a mistake, but he atoned for it this year, bouncing back with one of the best years of his still young career. The Aruban batted .288 and posted career highs in both homers (23) and RBI (103). The MLB is currently loaded with eons of talented young shortstops: Francisco Lindor, Trevor Story, Carlos Correa and Ozzie Albies, just to name a few. Bogaerts showed any doubters this year that he still belongs in that conversation.
Rookie of the Year:
AL: Finalists- Gleyber Torres, 2B/SS- Yankees, Shohei Ohtani,  RHP/DH- Angels, Miguel Andujar, 3B- Yankees
Our pick: Miguel Andujar
In a season where all the hype for the New York Yankees was surrounding Giancarlo Stanton and fellow rookie Gleyber Torres, Miguel Andujar stole the spotlight. He was arguably the team's most consistent force throughout the season when considering that Stanton under-performed and Aaron Judge was lost for a lengthy stretch due to injury. For the season, Andujar batted .297 with 27 HR, 92 RBI and 47 doubles, the last of which broke the Yankees' rookie record held by the legendary Joe DiMaggio. That's pretty elite company to be in, especially as a 23-year-old. The Yankees will look to add a shortstop this offseason with Didi Gregorious losing 2019 to Tommy John surgery, but it's safe to say Andujar has the hot corner locked up.
NL: Finalists- Juan Soto- OF, Nationals, Walker Buehler, RHP- Dodgers, Ronald Acuna, OF- Braves
Our pick: Ronald Acuna
Entering 2018, the hype was there and then some for no. 2 overall prospect Ronald Acuna, and when he was called up on April 25, he delivered as expected. The 20-year-old Venezuelan wasted no time in showing why he's considered to be a future face of the game, wowing fans with his play on both sides of the ball and helping spark the upstart Braves to their first NL East title since 2013. Acuna batted .293 with 26 HR and 64 RBI in addition to 16 stolen bases.  He also made the highlight reel in playoffs with an impressive grand slam in Game 3 of the NLDS off fellow nominee Walker Buehler. Numbers like that from a kid not even old enough to drink in the United States tell you something: this guy is going to be a freak.
Manager of the Year
NL Finalists: Bud Black- Rockies, Brian Snitker- Braves, Craig Counsell- Brewers
Our pick: Brian Snitker
The Milwaukee Brewers have always been my NL team, and as such I want oh so badly to give this one to Counsell, who led the Brewers on an incredible run. However, the most truly deserving nominee is Atlanta's Brian Snitker. The Braves were considered to still be in the process of rebuilding entering the 2018 season and were not expected to be contenders. However, propelled by the efforts of Acuna, Albies, Freddie Freeman, Nick Markakis and Mike Foltynewicz, the Bravos turned nearly every head in baseball and won the NL East from rival and perennial winner Washington. Considering that he was thought of as just an interim piece when Atlanta promoted him from Triple-A following Fredi Gonzalez' 2016 firing, Snitker's success with the Braves is remarkable. Leading such a young and unproven team to a division championship is impressive for any manager. Thanks in part to Snitker's efforts, baseball is quickly returning to prominence in Georgia.
AL Finalists: Bob Melvin- Athletics, Alex Cora, Red Sox, Kevin Cash- Rays
Our pick: Bob Melvin
Under Melvin, the Athletics were one of the game's best teams from 2012 to 2014, but the team fell rapidly afterwards, so much so that it's a bit surprising he was never fired. However, the 2018 A's showed glimpses of the team of old and qualified for the playoffs for the first time since 2014. Despite what can be argued as a lack of talent on paper, Oakland was a revelation this season and finished second only to the defending World Champion Astros in the West. Matt Chapman, Khris Davis and Sean Manaea led the way on the field, but Melvin's savvy and intuitive leadership was the true reason behind Oakland's appearance in the Wild Card game. This would be Melvin's third Manager of the Year crown. Tampa Bay's Kevin Cash could be a major dark horse here, however, as he led the Rays to their first winning record in five years despite an egregious lack of talent and fan investment.
Cy Young Award
AL Finalists: Corey Kluber, RHP- Indians, Blake Snell, LHP- Rays, Justin Verlander, RHP- Astros
Our winner: Blake Snell
Before this season, fans and critics alike could tell that the ability was there for Rays LHP Blake Snell, he just needed fine-tuning. And a demotion to Triple-A proved to be just that. Since he returned to the majors in June of last season Snell has been one of the best pitchers in baseball, and 2018 served as his coming out party. An MLB best 21 wins and .178 BAA coupled with an AL best 1.89 ERA make the man known as Snellzilla the easy favorite for the award, even though he's matched up against bigger names in Kluber and Verlander. Despite missing the playoffs, the Rays were one of the surprises of the year in the American League and actually finished with less losses than AL Central winner Cleveland. Snell's breakout year led the way and gave the team enough confidence to trade former ace Chris Archer to Pittsburgh. If Tampa Bay continues to surge, it will be Snell at the helm.
NL Finalists: Jacob deGrom, RHP- Mets, Max Scherzer, RHP- Nationals, Aaron Nola, RHP- Phillies.
Our winner- Jacob deGrom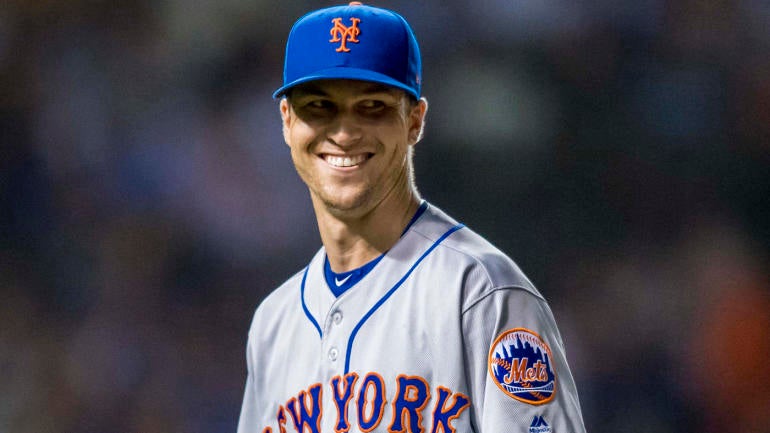 This is the most intriguing race of the year without question. Though Nola had a terrific season for Philly, the NL Cy Young is a two-horse race between Scherzer and deGrom. Scherzer by far has the all-around better line of stats, with an NL leading 300 Ks, 18 wins, .188 BAA and 220 IP. His division rival has him by the throat in one area, however, and it could be the difference maker. deGrom's ERA of 1.70 was the best in the MLB and the lowest a qualifying pitcher has finished with since Zack Greinke's 1.66 in 2015. That still wasn't his most impressive achievement this season, that honor goes to his streak of 25 consecutive starts allowing three runs or less that broke a 108-year-old MLB record. If that still doesn't convince you, remember that he would be 30-0 if the Mets had scored four runs in each of his starts. Scherzer's all-around line may be more impressive, but it is deGrom who is the most impressive finalist.
MVP:
NL Finalists: Christian Yelich, OF- Brewers, Nolan Arenado, 3B- Rockies, Javier Baez, 2B- Cubs
Our pick: Christian Yelich
The Miami Marlins unloaded their talented outfield in the winter of 2017, sending Giancarlo Stanton to the Yankees, Marcel Ozuna to the Cardinals and Christian Yelich to the Brewers. Milwaukee invested top prospect Lewis Brinson and many others in the Yelich trade, so it obviously had high hopes, but anyone see them paying off like this? Getting out of Miami turned out being the best thing that ever happened to Yelich, as a better supporting cast helped him finally unleash his potential. Leading the NL with a .326 batting average while finishing second in RBI with 111 and third in homers with 36, the 26-year-old also hit for the cycle twice in a three week span. He was awarded his first Silver Slugger and Hank Aaron Awards after the season, during which he was the centerpiece of Milwaukee's run to its first playoff and NLCS appearance in seven years. Baez and Arenado had reliably strong seasons, but Yelich is the runaway favorite here.
AL Finalists: Mike Trout, CF- Angels, Jose Ramirez, 3B- Indians, Mookie Betts, RF- Red Sox.
Our pick: Mookie Betts
Much like Yelich, Mookie Betts checked nearly every box in 2018 and continued to rival fellow nominee Trout for the title of the best in baseball. Betts led the MLB with a .346 AVG and .640 slugging % alongside 32 HR and 30 stolen bases, making him just the second Red Sox ever after Jacoby Ellsbury in 2011 to join the 30-30 Club. He also hit for the cycle and led the MLB in its favorite statistic with a 10.9 WAR, which alone is enough to win him MVP in today's game. Trout is a favorite every year and beat out Betts for MVP in 2016 in an underwhelming decision, but Betts has the advantage this time. On top of his formidable performance, he was also the most consistent offensive player in the game this year, more so even than teammate JD Martinez, who nearly won the Triple Crown. As the centerpiece of Boston's 2018 World Championship, Betts did pretty much everything a hitter can do this year and will more than likely take home his first career MVP on Thursday.
Agree/disagree? What are your selections?
As previously mentioned, Awards Week begins tomorrow with Rookie of the Year, then continues with Manager of the Year on Tuesday and Cy Young on Wednesday before concluding with MVP on Thursday. Be sure to tune into MLB network each night to see how the BBWAA votes!
Game 4 Uncertain For Boston After Previous Night's Marathon
Anyone who attended Game 3 of the 2018 World Series on Friday night certainly got their money's worth. The Dodgers and visiting Red Sox took the field at Dodger Stadium at 5:10 PM PT and didn't return to their respective clubhouses until almost eight hours later. The Chavez Ravine Marathon (as it will surely become known) ended at 12:30 on Saturday morning when Dodgers' 1B Max Muncy hit a walk-off solo home run in the bottom of the 18th off Boston's Nathan Eovaldi, who was working his sixth inning of relief.
Click here for the highlights. 
The longest game in MLB postseason history in terms of time at 7:20 couldn't have ended better for Los Angeles, who risked falling in the hole 3-0, and it couldn't have ended worse for Boston. The Red Sox had the game won in the 13th when they clawed their way to a 2-1 lead thanks to Brock Holt's hustle and some poor defensive positioning by LA. Eovaldi forced Yasiel Puig to ground to Ian Kinsler at second for the final out, but Kinsler lost his footing and his throw was about four feet to left of 1B Steve Pearce, allowing Muncy to score to knot it at 2-2.
Kinsler struggled mightily in the game, as he was also thrown out at the plate by Cody Bellinger on a sacrifice fly attempt in the 10th and was nearly picked off twice that same inning on top of going 0-3.  He blamed himself for the loss multiple times after the game ended, but he was hardly the only one at fault on Boston's side. Boston's MLB.com reporter Ian Browne reminded us after the game that the top four of the Red Sox order, Mookie Betts, Xander Bogaerts, Mitch Moreland and JD Martinez, went a combined 0-28 with nine strikeouts and nine runners left on. Boston's MVP of the night was unquestionably Eovaldi, who hurled six gallant relief innings despite pitching in Game 2 and received only one run of support. His performance was acclaimed by the baseball community on Twitter after the game.
As one could expect, Game 4 has already created a plethora of intrigue and the first pitch isn't for another three hours still. Neither manager has named their starter for tonight yet as both teams had to use nine pitchers in Game 3. It was more extreme on Boston's side as Alex Cora had used every available pitcher on his World Series roster except for Drew Pomeranz by the time it was over. Eovaldi was slated for the Game 4 start, but after 97 pitches in relief, he likely won't be available again until Game 6 if there even is one.
Browne quotes Cora as saying that a southpaw will be on the hill for Boston tonight, and this was correct. The Red Sox announced that Eduardo Rodriguez will make the first World Series start of his career, and it's safe to assume that Boston is praying that the Venezuelan can give his team a quality start and eat as many innings as he can. E-Rod did appear in Game 3 but threw only six pitches.
If not, Pomeranz is Cora's only other option, and that may scare many fans as the big man struggled all year after an elbow injury and hasn't appeared at all since September 30. Because he called on so many last night, including Game 2 starter David Price for two-thirds of an inning, Cora may have no choice but to call on Pomeranz at some point unless he wants to risk using ace Chris Sale on short rest and eliminate him from Game 5. Expect to see Big Smooth in the action tonight.
The most likely starter for Dave Roberts' Dodgers is also a lefty, 38-year-old LHP Rich Hill, who hasn't appeared yet in the Fall Classic. This would make for another decision for Cora. Right-handed hitting 3B Eduardo Nunez has struggled with knee issues all year long but has played very well this postseason despite it. However, Nunez was in obvious pain last night and appeared to be struggling  mightily at points. Putting 22-year-old Rafael Devers at third tonight would give Nunez a chance to recover but would also put another lefty batter in the lineup, which could work to LA's advantage.
It was rumored in the buildup to the series that Boston was considering putting Betts at his natural position of second base in order to keep Martinez in the lineup without sending Jackie Bradley Jr or Andrew Benintendi to the dugout. The latter got the night off in Game 3 and Kinsler's train wreck of a game made it easy to say that the decision backfired.  It appears as if the 36-year-old will be in the lineup tonight, but Nunez and Holt could fill in if his struggles continue.
The action starts at 8:10 ET once again on Fox, don't miss what is sure to be a pivotal contest!
2018 World Series: The Rematch Of A Century
2018 World Series
National League Champion Los Angeles Dodgers vs. American League Champion Boston Red Sox
Venues: Dodger Stadium (Games 3-5), Fenway Park (Game 1,2,6,7)
Wild Card over, Division Series over, Championship Series over, it's time for the Granddaddy of them all. The 2018 World Series is scheduled to begin tomorrow night, when NL Champion Los Angeles comes to Fenway Park to take on AL Champion Boston. What you may not know is that this isn't the first meeting between the two on the October stage. In 1916 the Boston Red Sox defeated the then- Brooklyn Robins 4-1 to capture the franchise's fourth World Championship. Now, 102 years later, the two meet again, the longest such stretch between World Series meetings according to the MLB.
The Dodgers defeated the Atlanta Braves 3-1 in the NLCS and held on to defeat the Milwaukee Brewers in seven games in the NLCS despite blowing a 3-2 lead. Dave Roberts' squad wasn't as dominant in 2018 as compared to the season before, but the strong performances of Matt Kemp, Walker Buehler and Kenley Jansen helped the team prosper without Clayton Kershaw, who missed significant time due to injury for the third straight season. Cody Bellinger suffered a considerable sophomore slump, but has come alive in the playoffs and was a large piece of his team's victory over Milwaukee, taking NLCS MVP honors in the process. After falling short in Game 7 of last year's Fall Classic vs. Houston, Los Angeles will be looking for redemption this time around.
Boston, it can be argued, had a more high-profile journey to the World Series, seeing as it had to defeat its most hated rival and the defending champions to get there. The Red Sox evened their all-time playoff record vs. the Yankees at 2-2 with a 3-1 ALDS victory. It didn't get easier from there for Alex Cora and company, however, as they now had to face the Astros, Cora's former team that defeated Boston in last year's Division Series. Somewhat surprisingly though, Boston downed Houston in four straight games after losing the opening contest. Guided in the regular season by MVP candidates JD Martinez and Mookie Betts, the 2018 Red Sox won a franchise record 108 games and might go down as the greatest squad in the team's history.
Tomorrow night's Game 1 will see a faceoff of two of the game's premiere left handed pitchers. The aforementioned Kershaw will make his Fenway Park debut opposite Boston's Chris Sale, who will make his World Series debut. The October stage is not a new place for most of the Dodgers, but it will be for a majority of the Red Sox roster, including Betts, Martinez, Andrew Benintendi, Rafael Devers and many others. That gives the edge in experience to Los Angeles. The team was in this exact same position not 365 days ago and a majority of its roster is the same. Boston has quite a few players that will make their Fall Classic debuts tomorrow night, and it could serve as a wild card.
A majority of Boston's lineup has never having played in the World Series doesn't make it inferior, however. The Red Sox won 108 games this season for a reason, their lineup is talented and deep. In addition to AL Batting Champion Betts and RBI Champion Martinez, Boston was bolstered by a career year from Xander Bogaerts (.288, 103 RBI) and another standout performance from Benintendi (.290, 87 RBI). ALCS MVP Jackie Bradley Jr's center field defense was outstanding as always and David Price had a Comeback Player of the Year caliber season on the mound, which helped keep the team on track with Chris Sale on the DL for a majority of the second half (not to mention his first playoff victory propelled the team in Game 5 vs. Houston). Los Angeles obviously didn't come this far with a lineup full of slouches, but it is the Red Sox who appear to be the deeper and more resilient team.
Game 1 is tomorrow night at Fenway Park in Boston, don't miss what's sure to be a classic!