2018 Season Preview: NL Central
Very similar to its counterpart in the American League, the National League Central Division's outlook for 2018 figures to be pretty similar to last season. There was a fair amount of offseason activity in the Central, but not much figures to change. Here's what we expect from the NL's mideast in 2018.
There's no reason to believe the Cubs aren't poised for a third straight NL Central Championship. Almost all of their big guns return and Joe Maddon once again has a super talented roster to work with. Making matters even better is that the Theo Epstein filled his biggest hole over the winter with an equally good candidate.
Biggest asset: Talent, talent everywhere
It's very tough to deny that the Chicago Cubs have one of the best-built lineups in baseball. Anchored by franchise cornerstone Anthony Rizzo and MVP Kris Bryant, the Cubs also boast Addison Russell, Ben Zobrist, Javier Baez, Kyle Schwarber and Jason Heyward.
On the pitching side, the Cubbies are also stacked. The aforementioned Epstein replaced departing ace Jake Arrieta with Yu Darvish, who could easily fill the role. Fellow veteran Jon Lester continues to be solid even with his advancing age. Jose Quintana and Kyle Hendricks round out what is undoubtedly one of the NL's best rotations. However, one departure that the team didn't address could be a problem.
Biggest weakness: Lack of a true stopper
The Lovable Losers' bullpen suffered two big blows this offseason when closer Wade Davis and setup man Hector Rondon both walked away in free agency.  According to The Chicago Tribune, 33-year-old Brandon Morrow is slated to be the team's new stopper. Morrow spent time with the Dodgers last season as well as their Triple-A affiliate Oklahoma City. He became only the second pitcher to appear in all seven games of a World Series last October but could not help Los Angeles overcome Houston.
Lack of a true closer could hurt a team that won the World Series two years ago thanks in large part to its bullpen. If the enigmatic Morrow struggles in the ninth, Carl Edwards Jr. could be pushed to the role, but that would create another hole in itself.  Despite all this, the 2018 Cubs should still rule in the Central.
2018 prediction: NL Central champs.
Milwaukee came so close to making the playoffs last season for the first time since 2011. Despite a lack of consistent pitching, Craig Counsell's squad missed out on the second NL Wild Card spot by just a game. Some marquee offseason acquisitions bolster the club's chances in 2018, however.
Biggest asset: Upgraded offense
Low key, the Brewers had one of the better winters in MLB this offseason. They made a big sacrifice in trading away top prospect Lewis Brinson to Miami along with others, but it brought back still-nascent superstar Christian Yelich in return. The 26-year-old has shown flashes of brilliance so far in his career but has never been able to quite sustain it. A far better opportunity to win in Milwaukee could help change that. The Brew Crew also made a big splash in signing familiar face Lorenzo Cain to a multi-year deal. Cain was drafted by the Brewers and played with them in 2010 before being traded to the Royals for Zack Greinke. Now a proven talent, Cain has the tools to bolster his old team even more.
The acquisitions of Yelich and Cain figure to pay big dividends at Miller Park. The bats of the two should take pressure off 2017 Breakout Player of the Year Travis Shaw and allow him to continue to cement himself as the team's MVP. Cornerstone Ryan Braun will also benefit from the upgrades as he transitions back to first base for the first time since his rookie year.
Biggest weakness: Still no true pitching
Though Brewers GM David Stearns did a terrific job with Cain and Yelich, he could have made more of an effort to purse a pitching upgrade.  It is unknown how much the team attempted to court top free agent hurlers Arrieta and Darvish, but entering 2018 Milwaukee has the same B- pitching staff that it had in 2017.
Don't get me wrong, the team didn't pretty well with that staff last year all things considered, but they could have possibly slipped into the playoffs had they gotten more wins and less runs-against. Chase Anderson receives the honor of starting Opening Day, displaying the hopes Counsell and co. have for him. This team needs an ace.
Despite this, the Brewers could very well return to October for the first time in seven years.
2018 predicition: second in NL Central- Wild Card winner.
St.Louis Cardinals
The Cardinals also made a big upgrade by way of a refugee from Miami. Like Milwaukee, St. Louis invested quite a bit in the move, trading away numerous high-end prospects to acquire Marcell Ozuna. It's a good move for a team that was competitive in 2017 but fell off at the end of the season and missed the playoffs for the second straight year after five straight appearances. Which is why-
Biggest asset: Marcel Ozuna
No coincidence. Like Yelich, Ozuna was a standout with Miami despite all the issues that team had during his time and will have no problem shining even brighter on a far better team. The 27-year-old's presence redefines Busch Stadium's outfield after Jeremy Hazelbaker and Randal Grichuk were waived and traded respectively. Though this is his first season with them, Ozuna may already be the new face of the Red Birds.
Biggest weakness: Fading promise
Though Ozuna's arrival is big for St. Louis and could reinvigorate Mike Matheny's team, St. Louis still has a big problem with once-promising stars starting to fade. You can't consider Adam Wainwright an example because, like Molina, he's just getting old. This can be said for Michael Wacha, however.  Though 2017 wasn't an awful season for him, the kid who came out of nowhere in 2013 and almost single-handedly carried St. Louis to a World Series title has been MIA the last two years. Kolten Wong also had a decent 2017 but is capable of far more. The Cards have consistently been one of the NL's top teams in recent years but need big performances from multiple players to avoid falling back into irrelevancy.
2018 prediction: Third in NL Central.
The Reds and their fans continue to be let down by their executives. Cincinnati once again made no big efforts this offseason to upgrade in any way, and as result 2018 figures to be another bleak season in Southern Ohio.
Biggest asset: Joey Votto
His age continues to grow but Joey Votto has shown no signs of slowing down. In fact, his age 33 2017 season may have been even better than his age 26 2010 NL MVP season. Votto put up the best all-around final line in the MLB last year and (in my opinion at least) deserved MVP more than Giancarlo Stanton. Unfortunately for him, the Reds have proven that one man can't do it alone and the Canadian superstar's herculean efforts have gone all for naught.
Biggest weakness: Uncommitted front office
As I already said, Cincy's biggest issue is that the team's ownership and front office have not done any ostensible work at making the once-dominant team any better. They've made no efforts to build around stars Votto and Adam Duvall and lack depth in a big way. Whether you see it as ignoring the call for a rebuild or simply not wanting to spend at all, the Reds won't improve until some kind of investment is put in this team. But, its leadership has shown that this is unlikely.
2018 prediction: fourth in the NL Central.
The winds of change have officially blown through the Steel City, at least as far as baseball is concerned. Pittsburgh traded away ace Gerrit Cole and franchise icon Andrew McCutchen this winter to officially kick off their rebuild. The Pirates' thoughts are now set on making the team great again (Trump pun in no way intended).
Biggest asset: Josh Harrison
Harrison has proven himself by now to be the Brock Holt of the National League. You can put this guy literally anywhere on the field and he will excel. With Cole and McCutchen gone and Starling Marte not yet recovered from his steroid bust, Harrison is easily his team's best player and could see himself traded at some point as well. It doesn't matter where on the field he goes, this guy will give you 100%. That's why he's so valuable.
Biggest weakness: Everything else about this team
I don't mean to rag on the Bucs but they've fallen almost as quickly as they rose in the early 2010s. This team used to be so magical and so fun to watch, where did it go? Your guess is as good as anybody's. Pittsburgh is definitely over the hill in that it realized it was time to reset. You have to laud the team's commitment to it too because we all know how mutual the love was between the Pirates and McCutchen (if you don't, watch his E60). This team is headed back in the right direction, but the road ahead is quite the lengthy one.
2018 prediction: last in the NL Central.
Let us know what you think and, more importantly, don't miss any Opening Day action. BASEBALL IS BACK!
April 2019's Biggest MLB Stories
Holy smokes, the first season of the 2019 MLB season is already in the books, and stories were abundant in this one. From certain players tearing it up and others struggling to records being broken, April 2019 was certainly eventful in the baseball world. Here are the biggest stories, happenings and surprises from the first month of the 2019 campaign.

Albert the Great
At 39, Albert Pujols might not be the revered slugger that he was in his prime, but the Anaheim Angel is still getting it done and joined elite company in April. His two-run double off of Kansas City's Homer Bailey on April 28 gave him career RBIs no. 1,996 and 1,997, putting him ahead of Barry Bonds and in sole possession of no. 3 on the all-time list. Only Alex Rodriguez (2,086) and Hank Aaron (2,297) remain ahead of him. Though it's unlikely that he'll ever catch the latter, Pujols could pass A-Rod with a healthy and productive 2019 and 2020.
C&C on a tear
Outfielders Cody Bellinger of the Los Angeles Dodgers and Christian Yelich of the Milwaukee Brewers spent April wreaking havoc on National League pitching. Bellinger appears to have regained his form after a sophomore slump in 2018 and was the first month's best hitter. The 23-year-old currently has the NL Triple Crown with a .431 AVG, 14 HR and 37 RBI. Reigning MVP Yelich is picking up where he left off last year, and owns a share of the homer lead in addition to a .353 AVG and 34 RBI. It's obviously still early and both of these guys will cool off at some point, but they are as good as it gets in the Senior Circuit right now.
K&K still on the sidelines
Two of this past winter's most high-profile free agents still remain unsigned as the calendar turns to May. 2015 American League Cy Young winner Dallas Keuchel and 2x Reliever of the Year Craig Kimbrel are still without homes and MLB.com Insider Ken Rosenthal reports that it may be as long as June before either star signs. Both men have different contract desires, as Rosenthal reports that Kimbrel does not want a one-year deal whilst Keuchel is aiming for the short-term. There are plenty of teams that would love the services of either, but it looks as if a signing won't occur any time soon.
Medical costs soaring in the Bronx
The New York Yankees had enough injuries in the first month of the season to fill an entire hospital ward. Sophomore manager Aaron Boone has had the difficult task of holding his team together with more than half his starting lineup on the disabled list. Miguel Andujar, Dellin Betances, Greg Bird, Clint Frazier, Aaron Hicks, Aaron Judge, Luis Severino and Giancarlo Stanton are all currently laid up. Considering half of the team's minor league system has seemingly played in the past month, New York has done pretty well and Boone should be commended for his work. But fans in the Bronx will feel much better when all their superstars return.
Transaction declined?
Boston Red Sox ace Chris Sale is one of the MLB's most dominant lefties and has been since he became a starter in 2012, but he's been MIA for the first month of this year. Fans accustomed to the 7x All-Star dazzling batters with his slider would be shocked to see that he's currently 0-5 with a 6.30 ERA. There's still every chance that he can turn it around, but the Red Sox and their Nation have not enjoyed their ace struggling so mightily. Sale has taken full responsibility for his failures, but if his team wants to repeat as World Series champions, they'll need him to regain his form.
Slow start for Harper in Philly
The most high-profile free agent acquisition in recent MLB history hasn't gotten off to the start that his new team was expecting. 26-year-old Bryce Harper is having a rougher time acclimating to the Philadelphia Phillies than anyone would have thought. Through the first month of what is to be a very long tenure in the City of Brotherly Love, Harper is batting .231 with 6 HR and 20 RBI. He's far too talented to struggle like this long-term, but considering what the Phillies are paying him, they can't be too happy.
Vlad Jr. makes long awaited debut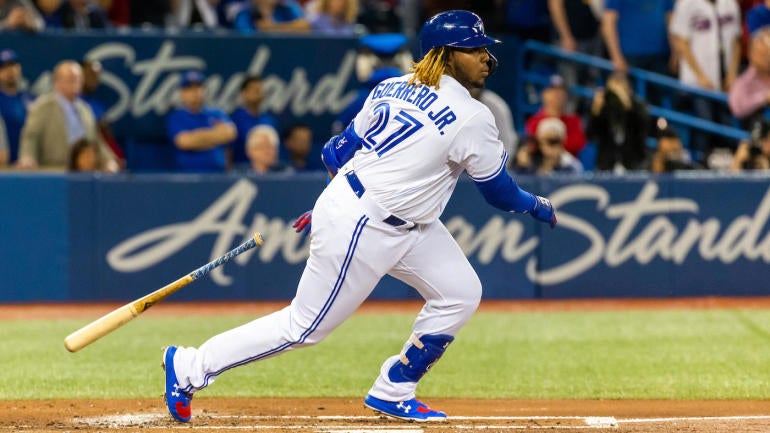 The baseball world had been chomping at the bit for some time to see no.1 prospect Vladimir Guerrero Jr. at the big league level. However, the Toronto Blue Jays waited patiently with the young phenom and allowed him to spend the end of 2018 and the beginning of this season with Triple-A Buffalo. Fans finally got their wish when the Jays made the call last week and brought Guerrero up for his MLB debut on April 26 vs. Oakland. A proud Vlad Sr. looked on as his son ripped a double in the bottom of the ninth for his first career knock. There will surely be many more to come.
Mets endure deGrom TJ scare
Jacob deGrom is currently the best pitcher baseball has to offer and he hasn't slowed on the heels of his masterful 2018 campaign. However, the Mets and their fans had to endure a brief panic when it looked as if the superstar righty had been claimed by the curse of Tommy John. It turned out to be nothing more than a scare and deGrom only missed one start, but baseball fans in Queens surely thought the sky was falling at the time.
Ichiro retires in grand fashion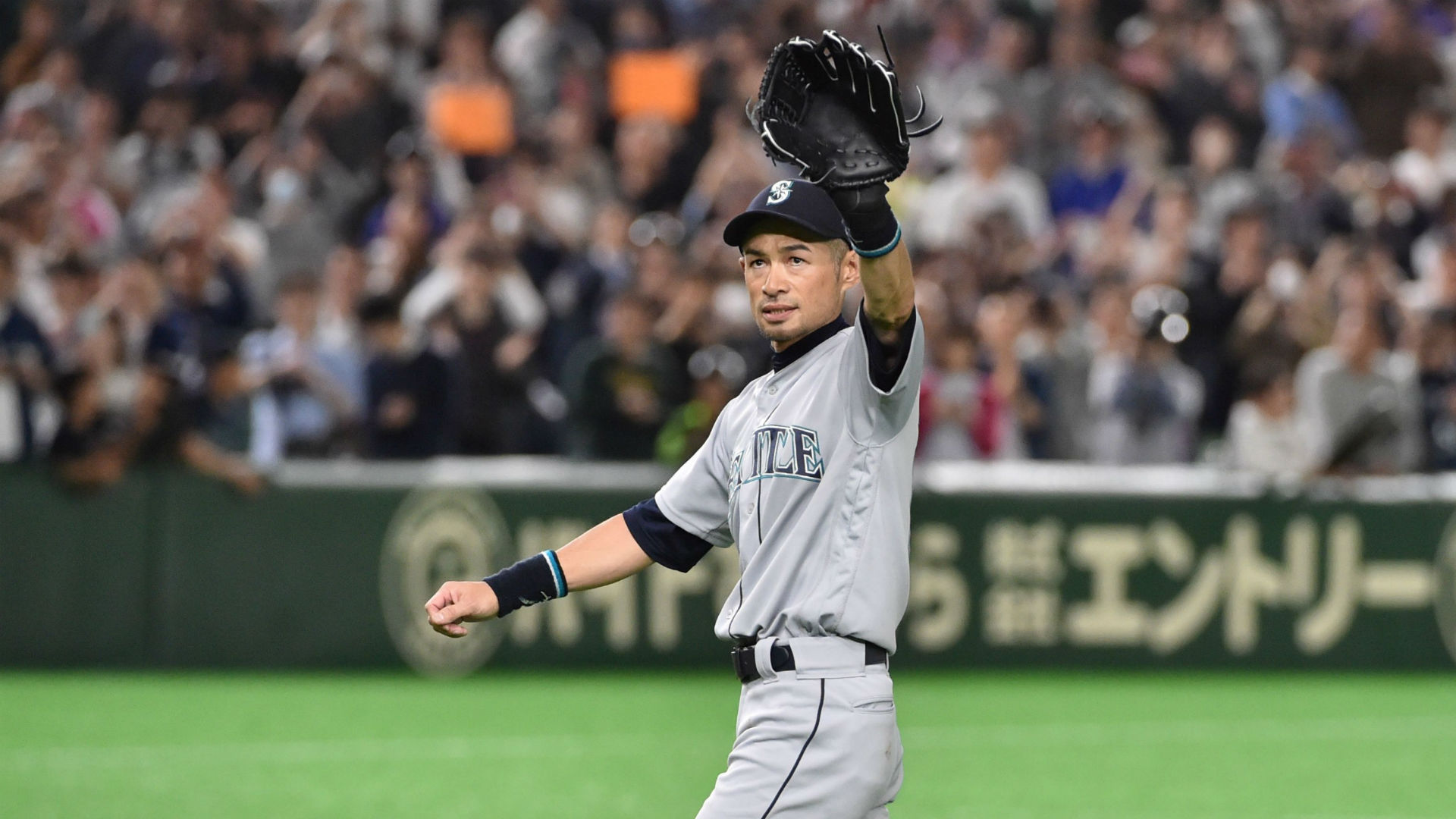 Though it happened in March actually and most fans may have forgotten about it by now, it's still one of best stories to come from baseball in some time. The Seattle Mariners opened the 2019 season vs. the Athletics at Tokyo Dome in Japan's capital. It was undoubtedly an amazing experience for all players involved, but it stood out for one player especially. 45-year-old Ichiro Suzuki played the series with the Mariners and called it a career after the second game. Not many foreign players in Major League Baseball can say that they played their last game in front of their native country and it's an honor Ichiro more than earned throughout his 28-year professional career in Japan and North America. An undoubted future Hall of Famer and one of the best hitters of all time, Ichiro walked off an MLB field for the last time to a thunderous ovation from his countrymen. Thanks for the memories, no.51.
deGrom Tommy John Scare Apparently Over For Mets
The New York Mets made an announcement on Friday that surely had baseball fans in Queens screaming and running around in circles.
The team's golden goose Jacob deGrom, the National League's reigning Cy Young winner, was scratched from his scheduled start on Saturday against the Cardinals in St. Louis. Manager Mickey Callaway then stated his ace would placed on the 10-day disabled list and undergo an MRI on his right elbow after it was reportedly "barking" after a Friday bullpen session.
However, the Mets have apparently backed down from DEFCON 1, as deGrom threw today in the outfield at New Busch Stadium and told the media afterwards that he felt okay.
"It's just a little sore," he said to ESPN. deGrom has been experiencing illness and recent weeks and went on to attribute that to the discomfort in his arm, stating he decided it was better to be safe than sorry.
"I had been sick since Atlanta and kinda had a whole-body soreness. For me when I don't throw, it seems that things pop up and I wasn't on a normal routine. I was trying to just get enough in to be able to make my start and I felt a little soreness in my elbow. I decided to say something and talked it over with Mickey and [Mets pitching coach] Dave [Eiland].
Fans across baseball knew exactly what the Mets were getting at when the news broke. When coupled together, "T" and "J" are the two most infamous letters in the game, and it looked like the notorious operation was stalking its most high-profile victim in years.
deGrom has already undergone Tommy John surgery in once before, but that was back in 2010 when he was in the rookie class Appalachian League. Nine years later he's the best pitcher in baseball, and it would be a horrible shame to see his meteoric momentum halted so abruptly.
It remains to be seen if deGrom will miss a prolonged period of time, or if there is actual damage to his elbow, but Mets fans can let out a sigh of relief and breathe easy, at least for the time being.
Red Sox Call Up Top Prospect Chavis
With two infielders being placed on the DL and desperate for any kind of spark they can get, the Boston Red Sox called up their top prospect Michael Chavis (MLB no. 75) from Triple-A Pawtucket on Friday.
Dustin Pedroia and Eduardo Nunez were both placed on the disabled list this week with knee and back injuries, respectively. And with super utility man Brock Holt out as well with an eye injury, Boston's infield has become quite depleted in a hurry. Infielder Tzu-Wei Lin was recalled as well as the stumbling Red Sox open up a three game set in Tampa with a Good Friday matchup.
Boston hasn't yet announced if Chavis will be in the lineup tonight, but the team is evidently hoping that the presence of the 23-year-old can provide some kind of a spark. Boston has struggled considerably so far in the young season and is coming off consecutive embarrassing losses to arch-rival New York. At 6-13, the defending World Series champs are dead last in the AL East.
Chavis, on the other hand, has risen through Boston's minor league system quickly despite a setback last season. A PED suspension cost him half of 2018 after he was busted for Turinabol, an anabolic-androgenic steroid. He denied knowingly taking any banned substance but played well enough after his return to be promoted from Double-A to Triple-A.
Can Chavis provide a boost for the struggling Sox and help them shake off their World Series hangover?