2018 Home Run Daily MLB Awards
Awards week 2018 in Major League Baseball will draw as much intrigue as any of its predecessors. A compelling race for Manager of the Year and the Cy Young Award have people's attention on the National League side and I'm sure that everyone is eager to see the outcome of the American League's Most Valuable Player vote as well.
With the week set to kick off tomorrow night with the Rookie of the Year honors, here are Home Run Daily's Award winners for the 2018 MLB season.
Comeback Player of the Year:
NL: Matt Kemp, OF- Dodgers
The 2018 Los Angeles Dodgers were nowhere near as impressive or dominant as their 2017 counterpart but still reached the World Series for the second straight year. The man largely responsible for that is Matt Kemp, for it seemed as if he was the only one on the team producing at many points. Driving in 85 runs on top of a .290 AVG and 21 HR, Kemp was named an All-Star for the first time since 2012 and proved that the Dodgers made the right choice in bringing him back. After bouncing around from San Diego and Atlanta before returning to LA last season, Kemp exorcised the demons of many frustrating seasons this year and proved that he is still a force to be reckoned with.
AL: Xander Bogaerts, SS- Red Sox
Bogaerts was hit on the right wrist by a pitch against Tampa Bay on July 6, 2017 and suffered a sprained joint. He elected to not be put on the disabled list, and the decision effectively torpedoed his season. The consistent offense Red Sox fans had become accustomed to seeing from him went MIA as he finished the year batting .273 with just 10 homers. Bogaerts himself admitted that playing with the injury was a mistake, but he atoned for it this year, bouncing back with one of the best years of his still young career. The Aruban batted .288 and posted career highs in both homers (23) and RBI (103). The MLB is currently loaded with eons of talented young shortstops: Francisco Lindor, Trevor Story, Carlos Correa and Ozzie Albies, just to name a few. Bogaerts showed any doubters this year that he still belongs in that conversation.
Rookie of the Year:
AL: Finalists- Gleyber Torres, 2B/SS- Yankees, Shohei Ohtani,  RHP/DH- Angels, Miguel Andujar, 3B- Yankees
Our pick: Miguel Andujar
In a season where all the hype for the New York Yankees was surrounding Giancarlo Stanton and fellow rookie Gleyber Torres, Miguel Andujar stole the spotlight. He was arguably the team's most consistent force throughout the season when considering that Stanton under-performed and Aaron Judge was lost for a lengthy stretch due to injury. For the season, Andujar batted .297 with 27 HR, 92 RBI and 47 doubles, the last of which broke the Yankees' rookie record held by the legendary Joe DiMaggio. That's pretty elite company to be in, especially as a 23-year-old. The Yankees will look to add a shortstop this offseason with Didi Gregorious losing 2019 to Tommy John surgery, but it's safe to say Andujar has the hot corner locked up.
NL: Finalists- Juan Soto- OF, Nationals, Walker Buehler, RHP- Dodgers, Ronald Acuna, OF- Braves
Our pick: Ronald Acuna
Entering 2018, the hype was there and then some for no. 2 overall prospect Ronald Acuna, and when he was called up on April 25, he delivered as expected. The 20-year-old Venezuelan wasted no time in showing why he's considered to be a future face of the game, wowing fans with his play on both sides of the ball and helping spark the upstart Braves to their first NL East title since 2013. Acuna batted .293 with 26 HR and 64 RBI in addition to 16 stolen bases.  He also made the highlight reel in playoffs with an impressive grand slam in Game 3 of the NLDS off fellow nominee Walker Buehler. Numbers like that from a kid not even old enough to drink in the United States tell you something: this guy is going to be a freak.
Manager of the Year
NL Finalists: Bud Black- Rockies, Brian Snitker- Braves, Craig Counsell- Brewers
Our pick: Brian Snitker
The Milwaukee Brewers have always been my NL team, and as such I want oh so badly to give this one to Counsell, who led the Brewers on an incredible run. However, the most truly deserving nominee is Atlanta's Brian Snitker. The Braves were considered to still be in the process of rebuilding entering the 2018 season and were not expected to be contenders. However, propelled by the efforts of Acuna, Albies, Freddie Freeman, Nick Markakis and Mike Foltynewicz, the Bravos turned nearly every head in baseball and won the NL East from rival and perennial winner Washington. Considering that he was thought of as just an interim piece when Atlanta promoted him from Triple-A following Fredi Gonzalez' 2016 firing, Snitker's success with the Braves is remarkable. Leading such a young and unproven team to a division championship is impressive for any manager. Thanks in part to Snitker's efforts, baseball is quickly returning to prominence in Georgia.
AL Finalists: Bob Melvin- Athletics, Alex Cora, Red Sox, Kevin Cash- Rays
Our pick: Bob Melvin
Under Melvin, the Athletics were one of the game's best teams from 2012 to 2014, but the team fell rapidly afterwards, so much so that it's a bit surprising he was never fired. However, the 2018 A's showed glimpses of the team of old and qualified for the playoffs for the first time since 2014. Despite what can be argued as a lack of talent on paper, Oakland was a revelation this season and finished second only to the defending World Champion Astros in the West. Matt Chapman, Khris Davis and Sean Manaea led the way on the field, but Melvin's savvy and intuitive leadership was the true reason behind Oakland's appearance in the Wild Card game. This would be Melvin's third Manager of the Year crown. Tampa Bay's Kevin Cash could be a major dark horse here, however, as he led the Rays to their first winning record in five years despite an egregious lack of talent and fan investment.
Cy Young Award
AL Finalists: Corey Kluber, RHP- Indians, Blake Snell, LHP- Rays, Justin Verlander, RHP- Astros
Our winner: Blake Snell
Before this season, fans and critics alike could tell that the ability was there for Rays LHP Blake Snell, he just needed fine-tuning. And a demotion to Triple-A proved to be just that. Since he returned to the majors in June of last season Snell has been one of the best pitchers in baseball, and 2018 served as his coming out party. An MLB best 21 wins and .178 BAA coupled with an AL best 1.89 ERA make the man known as Snellzilla the easy favorite for the award, even though he's matched up against bigger names in Kluber and Verlander. Despite missing the playoffs, the Rays were one of the surprises of the year in the American League and actually finished with less losses than AL Central winner Cleveland. Snell's breakout year led the way and gave the team enough confidence to trade former ace Chris Archer to Pittsburgh. If Tampa Bay continues to surge, it will be Snell at the helm.
NL Finalists: Jacob deGrom, RHP- Mets, Max Scherzer, RHP- Nationals, Aaron Nola, RHP- Phillies.
Our winner- Jacob deGrom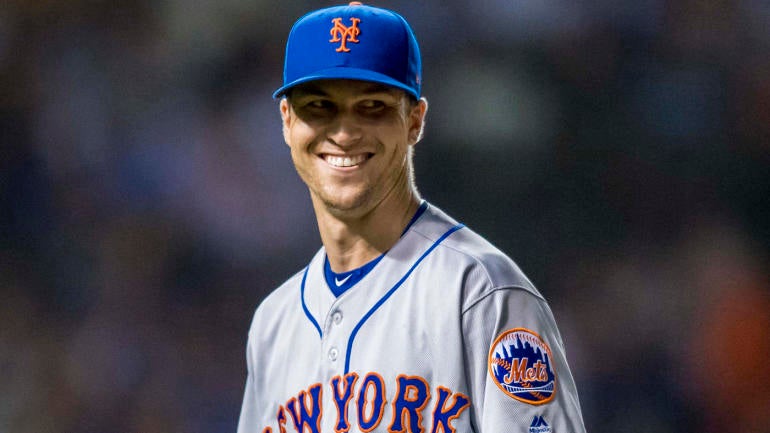 This is the most intriguing race of the year without question. Though Nola had a terrific season for Philly, the NL Cy Young is a two-horse race between Scherzer and deGrom. Scherzer by far has the all-around better line of stats, with an NL leading 300 Ks, 18 wins, .188 BAA and 220 IP. His division rival has him by the throat in one area, however, and it could be the difference maker. deGrom's ERA of 1.70 was the best in the MLB and the lowest a qualifying pitcher has finished with since Zack Greinke's 1.66 in 2015. That still wasn't his most impressive achievement this season, that honor goes to his streak of 25 consecutive starts allowing three runs or less that broke a 108-year-old MLB record. If that still doesn't convince you, remember that he would be 30-0 if the Mets had scored four runs in each of his starts. Scherzer's all-around line may be more impressive, but it is deGrom who is the most impressive finalist.
MVP:
NL Finalists: Christian Yelich, OF- Brewers, Nolan Arenado, 3B- Rockies, Javier Baez, 2B- Cubs
Our pick: Christian Yelich
The Miami Marlins unloaded their talented outfield in the winter of 2017, sending Giancarlo Stanton to the Yankees, Marcel Ozuna to the Cardinals and Christian Yelich to the Brewers. Milwaukee invested top prospect Lewis Brinson and many others in the Yelich trade, so it obviously had high hopes, but anyone see them paying off like this? Getting out of Miami turned out being the best thing that ever happened to Yelich, as a better supporting cast helped him finally unleash his potential. Leading the NL with a .326 batting average while finishing second in RBI with 111 and third in homers with 36, the 26-year-old also hit for the cycle twice in a three week span. He was awarded his first Silver Slugger and Hank Aaron Awards after the season, during which he was the centerpiece of Milwaukee's run to its first playoff and NLCS appearance in seven years. Baez and Arenado had reliably strong seasons, but Yelich is the runaway favorite here.
AL Finalists: Mike Trout, CF- Angels, Jose Ramirez, 3B- Indians, Mookie Betts, RF- Red Sox.
Our pick: Mookie Betts
Much like Yelich, Mookie Betts checked nearly every box in 2018 and continued to rival fellow nominee Trout for the title of the best in baseball. Betts led the MLB with a .346 AVG and .640 slugging % alongside 32 HR and 30 stolen bases, making him just the second Red Sox ever after Jacoby Ellsbury in 2011 to join the 30-30 Club. He also hit for the cycle and led the MLB in its favorite statistic with a 10.9 WAR, which alone is enough to win him MVP in today's game. Trout is a favorite every year and beat out Betts for MVP in 2016 in an underwhelming decision, but Betts has the advantage this time. On top of his formidable performance, he was also the most consistent offensive player in the game this year, more so even than teammate JD Martinez, who nearly won the Triple Crown. As the centerpiece of Boston's 2018 World Championship, Betts did pretty much everything a hitter can do this year and will more than likely take home his first career MVP on Thursday.
Agree/disagree? What are your selections?
As previously mentioned, Awards Week begins tomorrow with Rookie of the Year, then continues with Manager of the Year on Tuesday and Cy Young on Wednesday before concluding with MVP on Thursday. Be sure to tune into MLB network each night to see how the BBWAA votes!
Blue Jays Have "Legitimate Interest" In Jake Odorizzi
The Toronto Blue Jays are looking to make a splash in free agency and have their sights set on pitcher Jake Odorizzi, according to Sportsnet's Shi Davidi.
The Blue Jays have already conducted a sit-down meeting with Odorizzi's agents.
Odorizzi, 29, is coming off come off arguably the best season of his career with the Minnesota Twins last season.
Rangers to Target Top Free Agents
The Texas Rangers are entering the offseason with plans of targeting some of the top tier free agents that will be available.
Rangers' general manager Jon Daniels made it clear that he was ready to bring the Rangers back as a major player in the free agent market.
"This year, we are going to look at everything," Daniels said, according to the Dallas Morning News' Evan Grant. "Our goal is to get better, period. There are a couple of spots more [available] than others. We have signed [top free agents] before and at some point I have to suspect we will again."
Yankees' Brian Cashman Talks Gerrit Cole, Offseason Plans
The New York Yankees expect to be busy this offseason, as they usually are, and among the teams trying to lure Gerrit Cole to join their rotation.
Yankees' general manager Brian Cashman discussed Cole, as well as the upcoming offseason for the Bronx Bombers.
According to SNY's Andy Martino, Cashman says that the Yankees will engage with both Houston Astros hurler Gerrit Cole and World Series Champion Washington Nationals starter Stephen Strasburg.
However, Cashman added that the Yankees already have a significant amount of money on the books, according to Newsday's Erik Boland.
Cashman added that the Yankees will also explore the trade market, much like they did last season when they acquired James Paxton from the Seattle Seahawks, according to the New York Times' James Wagner.